The Daily: 2016 Bowman Chrome Daniel Poncedeleon Autograph
The Card: 2016 Bowman Chrome Prospect Autographs Daniel Poncedeleon #CPADP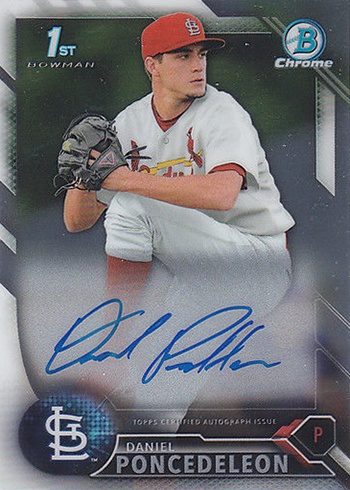 Making your major league debut is a big deal. Throwing seven no-hit innings in your major league debut is an even bigger deal. That's what Daniel Poncedeleon did last night for the St. Louis Cardinals.
Poncedeleon's debut comes a little over a year after he was sent to the hospital with a dangerous injury after being hit in the head with a line drive.
The Cardinals drafted the 26-year-old in 2014 in the ninth round. This was actually the third time he was picked. The Rays took Poncedeleon in 2010 out of high school in the 24th round. After the pitcher opted for college, the Cubs drafted him two years later in the 38th round. But he never signed with Chicago and entered the draft for a third and final time in 2014.
St. Louis originally called Poncedeleon up in June but he was never used.
At the time of his debut, the pitcher had just over 50 cards to his name. And most of those come in either 2016 Bowman or Bowman Chrome. The 2016 Bowman Chrome Prospect Autograph Daniel Poncedeleon is found in packs of Bowman Chrome. To date, it (and its Refractor parallels) are his only autograph cards.
The Daily highlights a key player or personality in the world of sports or collecting from the past 24 hours along with one of their key cards.