The Daily: 2015-16 Panini National Treasures Nikola Jokic RC Autograph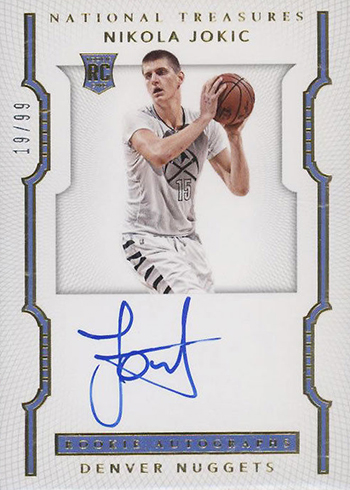 Nikola Jokic continues to do amazing things this season. Last night saw the big man notch his fourth triple-double of 2018-19 in a 103-199 win over the Miami Heat. And with that win, Jokic's Nuggets continue to be the kings of the Western Conference, a game up on the Golden State Warriors.
For the season, Jokic is averaging 19.2 points per game to go along with 7.5 assists and 10.1 rebounds.
It's hard to say that Jokic has exploded onto the scene this season because he's been solid since his debut in 2015-16. But he's shown tremendous improvement every season. The result? He's gone from a second-round steal to one of the NBA's most dominant players.
It shouldn't be a surprise that 2015-16 Panini National Treasures ranks among the top Nikola Jokic Rookie Cards. For starters, it's National Treasures. Although it doesn't have the massive patch that most other key NT Rookie Cards have, it is autographed. And with just 99 copies, it's rare.
It's one of just four Nikola Jokic RCs that has an autograph.
The Daily highlights a key player or personality in the world of sports or collecting from the past 24 hours along with one of their key cards.