The Daily: 2014 Topps Update Target Red Mookie Betts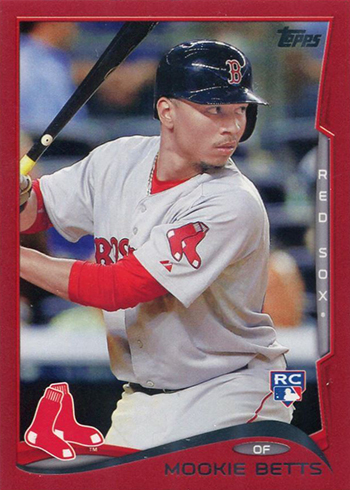 It was something of a marathon at-bat, lasting 13 pitches. When it was done, it proved unlucky for Toronto pitcher J.A. Happ. Mookie Betts made his way to the plate with the bases loaded and two outs in the bottom of the fourth.
A long combination of strikes, balls and fouls later, Betts hit a dramatic grand slam that put the Red Sox up 5-2. Boston would go on to win the game 6-4.
And it's eight minutes worth watching.
2018 has been a big year for Betts, both on the field and in the hobby. While all of his cards have reached new levels, some are particularly notable. The 2014 Topps Update Target Red Mookie Betts has been one of the biggest movers.
A parallel to his Topps Update Rookie Card, it was only available in packs initially sold at Target. Combine the exclusivity with the fact that Update is available in much smaller numbers compared to the flagship Series 1 set and it has taken off in the past couple of months — as in selling for hundreds.
Betts also has a Rookie Debut card in the 2014 Topps Update base set. This one, which has a horizontal design, is part of a subset so it's not on the same level as the actual Rookie Card. That said, it too has caught on as well.
The Daily highlights a key player or personality in the world of sports or collecting from the past 24 hours along with one of their key cards.