The Daily: 2014 Finest Rookie Autographs Mystery Redemption Jacob deGrom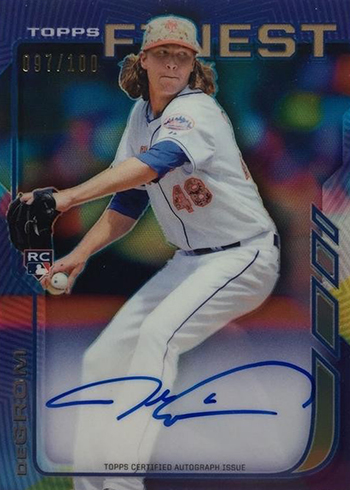 Despite the Mets' struggles, Jacob deGrom continues to have a masterful 2018. Last night, the Dodgers were his latest victim. deGrom gave up just one run over six innings. It also marked the 25th consecutive game that the starter surrendered three runs or less, breaking the MLB record of 24 the Dwight Gooden set in 1985.
For the season, deGrom has a MLB-leading ERA of 1.68. His 230 strikeouts are good for fourth in the majors. The right hander is among the leaders in several other categories, especially when you look at advanced analytics.
deGrom's cards are a little curious. He had just one minor card before 2014, the year he made his MLB debut. His four Rookie Cards are small compared to most of his modern peers, although he has a much larger 2014 portfolio when inserts and parallels are taken into account.
The 2014 Finest Rookie Autographs Mystery Redemption Jacob deGrom is one of the most interesting cards from his rookie season. Inserted in packs as a redemption, collectors didn't originally know who the card was valid for. When Finest first came out, there's a good chance Topps didn't either. That's usually the point of the Finest Mystery Redemptions — to offer something of an update and adjust to the season at hand.
The final version of the card comes with an on-card autograph. It's also numbered to 100 copies so there's not a lot out there. Understandably, they don't pop up very often, either.
The Daily highlights a key player or personality in the world of sports or collecting from the past 24 hours along with one of their key cards.