The Daily: 2014 Crown Royale Khalil Mack RC Autograph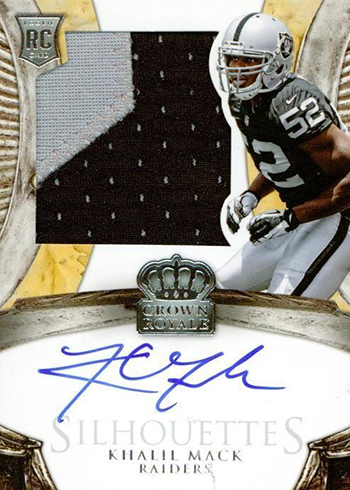 Chicago lost a heartbreaker in their season opener on Sunday night against Green Bay. But how about Khalil Mack? The freshly acquired linebacker was a wrecking ball in his Bears debut, particularly in the first half before Aaron Rodgers started to do Aaron Rodgers stuff.
Mack had a monstrous game including a pick six and a strip sack where he ripped the ball out of DeShone Kizer's  hands as though it were cotton candy from a kid at the circus.
It provided some comfort for Bears fans even if the team did come up short. On the flipside, Raiders fans have to be wondering why Mack was traded in the first place.
Khalil Mack has no shortage of Rookie Cards. That said, as a defender, he doesn't have as many high-end autographs like offensive standouts. One that is out there is the 2014 Crown Royale Khalil Mack autographed patch. Done with the Silhouette theme, it has both a large swatch and an on-card signature. Numbered to 299, it's tough but not to the same level some of the other players in the Silhouettes subset.
The Daily highlights a key player or personality in the world of sports or collecting from the past 24 hours along with one of their key cards.