The Daily: 2013-14 Panini National Treasures Giannis Antetokounmpo RC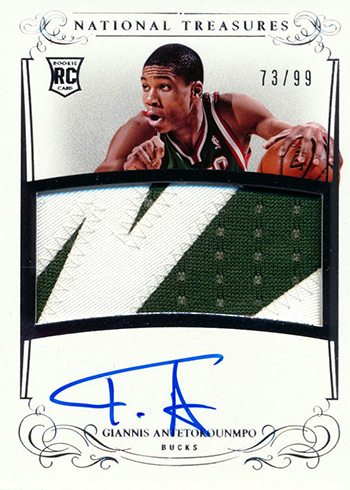 Can anyone stop Giannis and the Milwaukee Bucks? The Boston Celtics certainly couldn't. Milwaukee closed out the Eastern Conference Semi-Finals with a dominant 116-91 win and the best-of-seven series 4-1. Now they wait for the winner of Toronto and Philadelphia.
In the meantime, Giannis Antetokounmpo's ascension as one of the NBA's top players continues. His rise has been happening for a couple of years now. If 2017-18 was a simmer, 2018-19 is scorching.
More and more people are recognizing Antetokounmpo's elite status in the game. He plays so hard and he's so athletic, he's must-watch basketball.
Antetokounmpo's cards have seen multiple jumps in recent months. And when it comes to his Rookie Cards, none are bigger than 2013-14 Panini National Treasures. With it is the customary on-card signature, jumbo patch swatch and numbering to 99 copies. And while you'll be hard-pressed to find an NT design that isn't on point, 2013-14 is a particularly nice year evoking a high level of elegance.
And as hot as Antetokounmpo is both on the court and in the hobby, many are probably expecting even bigger things in the form of eight more wins before Milwaukee's season is over. Perhaps that's one of the reasons why this is a tough card to track down at the moment. Sure, 99 copies makes it scarce to begin with supply at the moment is pretty much dry. This goes for the parallels as well.
The Daily highlights a key player or personality in the world of sports or collecting from the past 24 hours along with one of their key cards.