The Daily: 2012 Panini National Treasures Nick Foles Rookie Card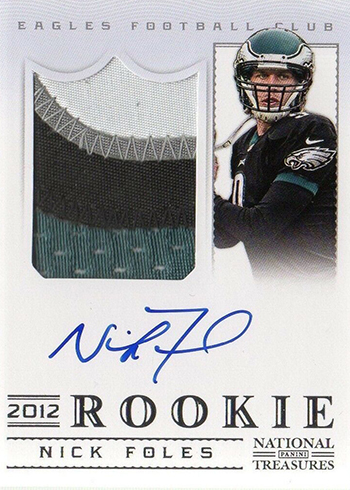 Nick Foles is moving on from the Eagles to become the new quarterback of the Jacksonville Jaguars. Foles le the Eagles to a Super Bowl LII win in 2018. Despite this, has been viewed as the back-up to the younger, and sometimes injured, Carson Wentz. Foles was often spectacular when he was needed most . Now he gets to play on a more regular basis with the Jaguars. The $88 million over four years is certainly a perk as well.
Foles has lots of Rookie Cards, all coming in the deep 2012 sets. The most valuable comes from 2012 Panini National Treasures, which has an on-card autograph and jumbo patch. Foles might not be as popular as Russell Wilson or Andrew Luck, but that Super Bowl will give it some lasting interest in the years to come.
The Daily highlights a key player or personality in the world of sports or collecting from the past 24 hours along with one of their key cards.