The Daily: 2012 Leaf Metal Draft Jesus Aguilar Autograph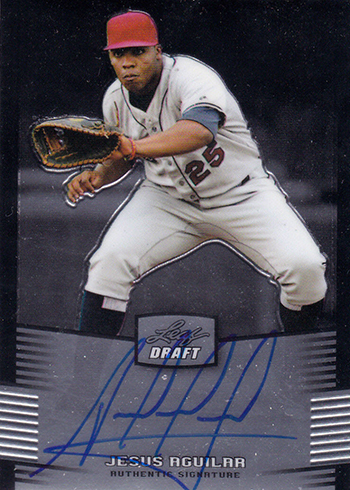 The National League home run leaders list has its usual superstar suspects. But there are also some fresh faces bashing the ball over the fence at an impressive rate.
That includes the NL's current home run leader, Jesus Aguilar.
If you haven't heard much about Aguilar, you're probably not alone. After very limited time with the Indians in 2014 to 2016, the first baseman finally got some regular playing time last year. His 16 home runs and .265 batting average in 279 at bats weren't horrible but they weren't exactly the stuff of stardom.
Aguilar has already left his home run total from last year. He's presently sitting at 23, one more than Bryce Harper and Nolan Arenado. On top of that, the 28-year-old has brought his batting average over .300 and has 64 RBI.
The early
Jesus Aguilar baseball card
landscape is a little scattered. Leaf was the first to given him autographs, with keys being 2012 Leaf Metal Draft and 2012 Leaf Valiant. His first Topps autographs didn't arrive until 2014 when Aguilar was in the majors. Even then, it was limited to 2014 Bowman Sterling and 2014 Topps Supreme.
His only Rookie Card can be found in 2014 Topps Heritage High Number. To further confuse things, his 2017 Topps card has the RC logo despite not being an RC.
The Daily highlights a key player or personality in the world of sports or collecting from the past 24 hours along with one of their key cards.