The Daily: 2012 Bowman Chrome Prospect Autographs Eddie Rosario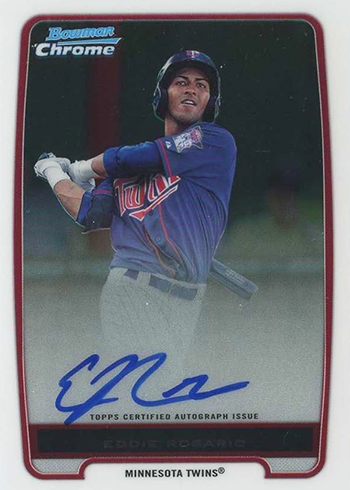 Eddie Rosario had himself a game on Sunday, hitting not one, not two but three home runs against the Cleveland Indians. The final one came in the ninth, sealing a Twins win in walk-off style.
This is Rosario's second three-home run game. Making that much sweeter, both came with his parents in attendance. In fact,
both times came the last two games they've been in the stands for
.
Rosario's first Bowman Chrome autograph is found in 2012 Bowman Baseball. It's not a big-money card. His three homers may give it a small boost over the next couple of days but it should settle back fast. That said, he might be someone to keep an eye on. Rosario's been pretty hot at the plate, hitting .374 in his last 30 games with nine home runs.
The Daily highlights a key player or personality in the world of sports or collecting from the past 24 hours along with one of their key cards.