The Daily: 2011 Topps Update J.D. Martinez RC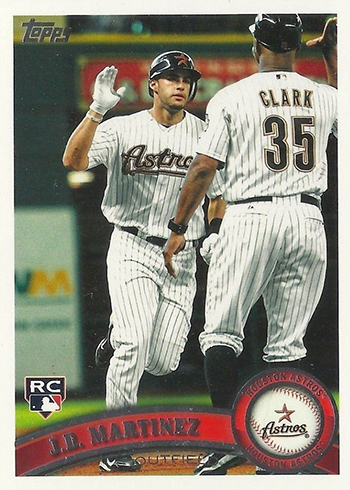 J.D. Martinez is the first player to 20 home runs this season. Not bad for someone teams were originally reluctant to sign in the offseason — at least at the price he was asking.
Martinez is starting to build an impressive résumé that's spanning multiple seasons. He's not just a one-season wonder. Playing in the National or American League's hasn't mattered much either as he was a big part of the Diamondbacks' run last season following a mid-season trade from Detroit.
Now he's starring for the Red Sox, a team that should elevate his status in the hobby.
Although he has a few Prospect cards starting in 2010 from before his MLB debut, J.D. Martinez is an anomaly in the modern hobby. He has just one base set Rookie Card, which is found in the set that just keeps on giving — 2011 Topps Update Series.
Mike Trout, Jose Altuve, Paul Goldschmidt and Anthony Rizzo are among the others with Rookie Cards in the set, which has soared in the last couple of years.
The Daily highlights a key player or personality in the world of sports or collecting from the past 24 hours along with one of their key cards.