The Daily: 2011 Bowman Chrome Prospect Autographs Khris Davis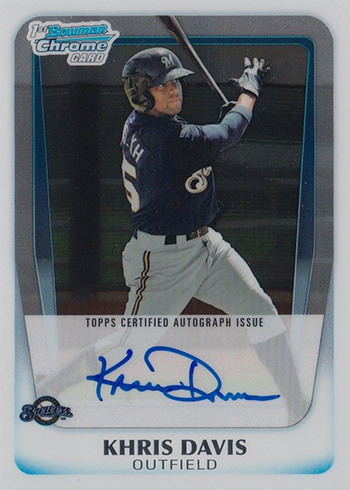 Khris Davis went 2-4 last night, hitting his 38th home run and driving in his 100th, 101st and 102nd runs in the process. Is there anyone else flying under the radar both in baseball and in the hobby right now? It's doubtful.
This is Davis' third straight year hitting the century mark for RBIs. And barring some sort of injury or historic slump, the outfielder should top the 40 home run mark for the third consecutive year as well. Fifty isn't out of the question this season.
A slugger in the truest sense, his batting average is a legitimate knock against him. But even that's a little easier to overlook when you look at not only Davis' power but how he's coming through in big situations. He's a big reason why the Oakland Athletics are winning. As in tied for first place in the AL West with the reigning World Series Champion Astros.
The 2011 Bowman Chrome Prospect Autographs Khris Davis is his first signed card in a MLB uniform. Included in 2011 Bowman Chrome Baseball packs, it's his most popular early card. That said, it's not his first autograph. That distinction came in 2009 Donruss Elite Extra Edition.
The Daily highlights a key player or personality in the world of sports or collecting from the past 24 hours along with one of their key cards.