The Daily: 2011 Bowman Chrome Draft Trevor Story Autograph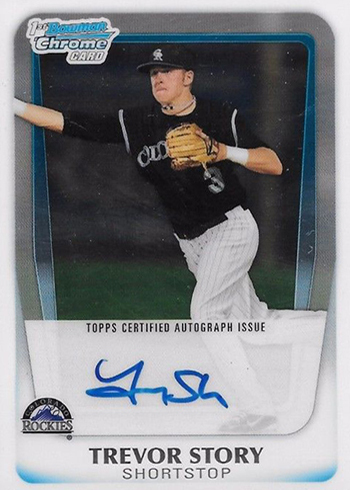 Just watch.
Trevor Story had one of those nights on Wednesday. Not only did he hit three home runs, but he did it with style. The first caused him to fall over. The second went 505 feet. The third was a cherry.
Make all the Colorado air arguments you want, but that was a heck of a game. And it might cause people to take notice of the great season the shortstop is having. Story is now up to 31 home runs and 95 runs batted in for the season. He's brought his batting average up to just under .300. And with 25 stolen bases, he's on pace for a 30/30 season.
Trevor Story cards have cooled significantly since he broke into the league in 2016 and proceeded to go on an instant tear. But that's often the case for young players. In the hobby, it's often harder to regain that early momentum.
Story has a few cards from 2011, but the biggest is definitely his 2011 Bowman Chrome Draft autograph. Like all of his cards, the interest isn't the same as it was a couple of years ago. For most of us, that's not a bad thing. As with all modern Bowman Chrome autographs, there's a bunch of Refractors that go with it, including the one-of-one Superfractor.
Other 2011 sets with Trevor Story autographs include Bowman Sterling, Donruss Elite Extra Edition and Prime Cuts.
The Daily highlights a key player or personality in the world of sports or collecting from the past 24 hours along with one of their key cards.