The Daily: 2010 Topps Red Hot Rookie Redemptions Giancarlo Stanton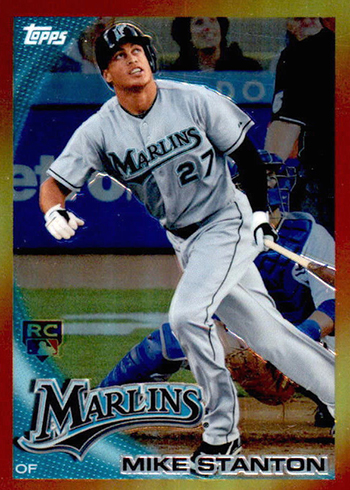 The 300 Home Run Club isn't the most prestigious group in baseball. But for a player in their prime, it's a benchmark that points to bigger things down the road.
Giancarlo Stanton hit his 300th MLB home run last night against the Detroit Tigers. Still a couple months away from his 29th birthday, he ranks as the ninth youngest player to reach the milestone. So, barring injury, Stanton has plenty of baseball left in him and lots more home runs to come.
While it may not be a Rookie Card in the traditional sense, the 2010 Topps Red Hot Rookie Redemption is a Giancarlo Stanton card to watch. Not actually available in packs, it was part of a special program for 2010 Topps Series 2 Baseball. Each hobby box had one redemption. These were given a number but not a player. Over the course of the season, Topps revealed who the players were for each card.
The end result has no shortage of color. They're also done on Chrome stock with Refractor backgrounds to add further pop.
The 2010 Topps Red Hot Redemption Giancarlo Staton isn't all that tough to find. But it's certainly not one of the most common cards from his rookie season. Like a lot of Stanton's cards, its popularity has grown over the past year since his massive 2017 and subsequent trade to the Yankees.
The Daily highlights a key player or personality in the world of sports or collecting from the past 24 hours along with one of their key cards.