The Daily: 2010 Bowman Chrome Draft Manny Machado Autograph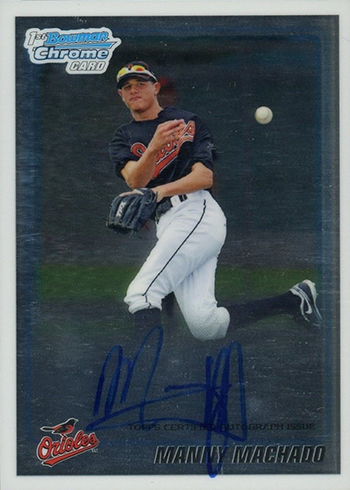 The trade winds might be blowing, but play continues for Manny Machado. He went 3-4 with two home runs last night against the Yankees.
New York just happens to be one of the teams that keeps popping up in the rumor mill as one of the frontrunners to land the shortstop.
The 26-year-old is up to 23 homers for the year to go with 46 runs, 63 RBI and a .314 batting average. And that's on one of the worst offenses in MLB as far as run totals go.
Although he has cards dating back to 2009 from Upper Deck thanks to his time with the USA Baseball program, it's the 2010 Bowman Chrome Draft Manny Machado autograph that is king.
This isn't his first Bowman Chrome card, though. Machado has a USA card in 2010 Bowman Baseball. Of those, 100 were included in 2010 Bowman Chrome wrapper redemption packs with autographs.
But the 2010 Bowman Chrome Draft Manny Machado represents his first in a MLB uniform, something which helps drive the brand and its popularity with collectors.
It has already risen significantly over the past few years. A trade to the Yankees could result in a similar bump Giancarlo Stanton cards got last year. That said, Baltimore has a larger following than the Marlins, so it might not be quite as strong. Still Machado + pinstripes = hobby interest.
The Daily highlights a key player or personality in the world of sports or collecting from the past 24 hours along with one of their key cards.