The Daily: 2010-11 Upper Deck The Cup Taylor Hall RC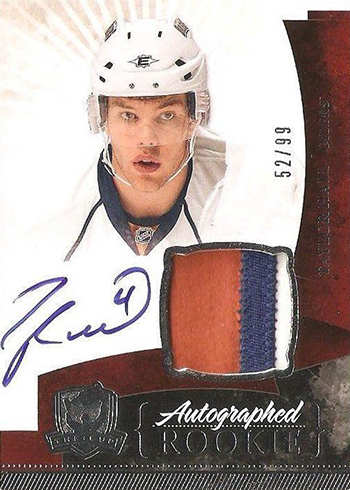 The NHL capped the 2017-18 season last night in Las Vegas with its annual awards ceremony. Heading into the night, it was guaranteed there'd be a first-time winner for the prestigious Hart Trophy for the league's MVP. In the end it was Taylor Hall beating two other first-time finalists in Nathan MacKinnon and Anze Kopitar.
Hall finished the season with 39 goals and 54 assists. His 93 points were good for sixth in the league — and four behind MacKinnon who was second in tight Hart voting.
But if you look to the standings, Hall's importance to the Devils becomes more clear. In 2016-17, Hall's first in New Jersey, the team was dead last in the Eastern Conference. This year, the Devils rebounded to get 97 points in the standings, an improvement of 27 and good enough to get them back in the playoffs.
Hall was the first overall pick of the Edmonton Oilers in 2010. In a somewhat surprising move, Edmonton sent him to New Jersey for defenseman Adam Larsson in June, 2016.
As a first overall pick, Hall entered the hobby hot. While that eventually cooled as Edmonton continued to struggle, his cards never totally fell off. He's got more than 20 different Rookie Cards. And when it comes to value and prestige, the 2010-11 Upper Deck The Cup Taylor Hall is the biggest. Combing an autograph (on-card), patch and low print run, it's part of Upper Deck's ultra high-end brand. With 99 copies, they don't show up often.
The Daily highlights a key player or personality in the world of sports or collecting from the past 24 hours along with one of their key cards.