The Daily: 2010-11 Panini National Treasures DeMarcus Cousins RC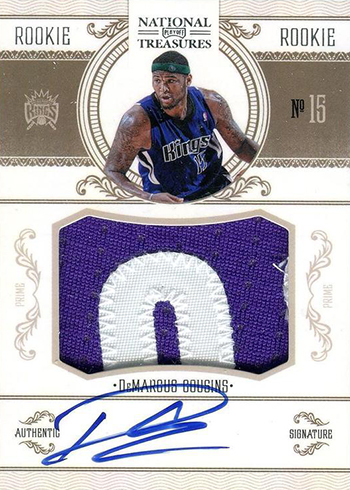 Right when you think that someone might be able to hang with the Golden State Warriors, the team goes out and gets even more All-Stars. This time, it's DeMarcus Cousins, who took a small one-year contract to join Stephen Curry. And Kevin Durant. And Draymond Green. And Klay Thompson.
If they're all healthy, the Warriors have an All-Star team for their starting lineup.
For Cousins, health is the key to the deal. He's healing from a torn Achilles that will keep him out for some time. It's possible Cousins could end up missing the entire 2018-19 season. Or he might be better — and well rested — in time for the playoffs.
When it comes to DeMarcus Cousins Rookie Cards, 2010-11 Playoff National Treasures is easily the most coveted. The super-premium card comes with an autograph, a jumbo patch swatch and it's numbered to just 99 copies. Cousins has nine other autographed RCs but none approach the level of this one.
The Daily highlights a key player or personality in the world of sports or collecting from the past 24 hours along with one of their key cards.