The Daily: 2009-10 Playoff National Treasures James Harden Rookie Card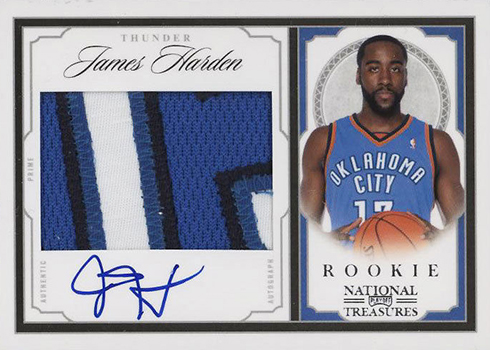 James Harden went off against the Memphis Grizzlies last night. The way he's been playing of late, that shouldn't come as a surprise. But even on the Harden scale, this was a big one.
By the time the buzzer went off to end the first half, the Rockets guard had already dropped 32 points. He didn't let up much in the second, finishing the game with 57. It also marked the 17th consecutive game with at least 30 points.
The top James Harden Rookie Card comes from 2009-10 Playoff National Treasures Basketball, which is also the brand's debut in basketball. And just like today's rookies, the Harden has three key elements: an on-card autograph, a massive patch and a print run of 99 copies. The National Treasures name is also important today as the line has caught on over the year's and Panini's continued exclusive with the sport.
The Daily highlights a key player or personality in the world of sports or collecting from the past 24 hours along with one of their key cards.