The Daily: 2006 Breygent Wizard of Oz Yellow Brick Road Prop Card
The Card: 2006 Breygent Wizard of Oz Prop Cards #YBS2 Yellow Brick Road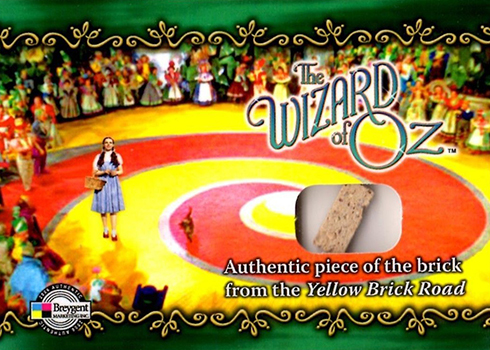 On this day in 1939, The Wizard of Oz had its premiere at the legendary Grauman's Chinese Theatre in Hollywood. A legitimate movie classic was born, creating a legacy that resonates with audiences still today.
It has also meant plenty of collectibles and memorabilia including trading cards. Several companies have held the Wizard of Oz license over the years, most recently by Breygent. They put out a couple of sets in 2006 and 2007 that came with premium items like sketch cards, autographs from several Munchkin actors, cut signatures and memorabilia cards.
The costume swatches and prop pieces Breygent embedded into cards weren't big. But they're still pieces from one of the most important films ever. Their historical value is tremendous.
2006 Breygent Wizard of Oz, their first set, has a pair of cards with brick pieces from the Yellow Brick Road. Both are inserted 1:480 packs. Combine that with the time that's passed since the set came out and it shouldn't be surprising that they're not found in any sort of quantity today.
The Daily highlights a key player or personality in the world of sports or collecting from the past 24 hours along with one of their key cards.