The Daily: 2005 Bowman Chrome Justin Verlander RC Autograph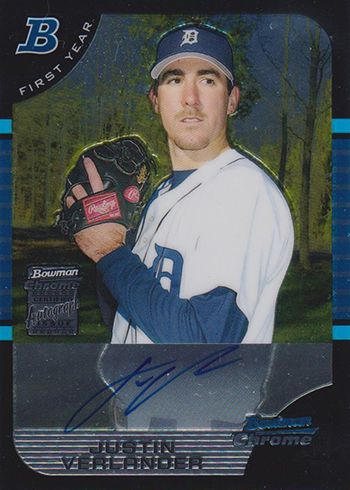 Justin Verlander made his return to Detroit last, pitching against his old team at Comerica Park for the first time. There were the obvious emotions that come with "going home" — especially when that home involved plenty of big moments, a Cy Young Award, an AL MVP and a couple of trips to the World Series.
Once the videos ended and the game began, it was all business. And Justin Verlander was back at it doing Justin Verlander things. He struck out ten over seven innings of work, giving up six hits and a pair of earned runs. The Astros walked away with a 3-2 win.
Verlander has no short of Rookie Cards. In fact he has a lot — totalling almost 50 different. Among the most coveted is the 2005 Bowman Chrome Justin Verlander Rookie Card, which comes with all the things Chrome is known for plus an on-card autograph.
This was the last year that Bowman Chrome had autographs for key rookies listed as part of the main set. Up until this point, they weren't inserts and the "prospect" thing didn't matter so much. There's also the Refractor rainbow adding some color and a deeper chase. While it's not quite as large as today's Bowman sets, Verlander does have a Superfractor out there somewhere.
The Daily highlights a key player or personality in the world of sports or collecting from the past 24 hours along with one of their key cards.