The Daily: 2004 Playoff Contenders Ben Roethlisberger RC Autograph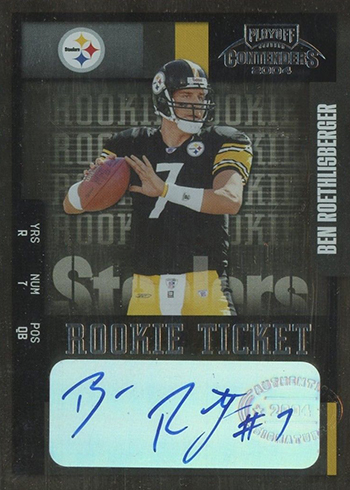 Ben Roethlisberger is at the point in his career where questions of how long he can last arise every few weeks. It's the same with a lot of long-time quarterbacks (not to mention some younger ones who are struggling, for that matter). And while we know and recognize Big Ben is on the backside of his playing career, there are still games like last night that make you think he can go on forever (if forever means several more years).
Last night against the Carolina Panthers, one of the better defensive teams in the NFL this season, Roethlisberger threw for 328 yards and five touchdowns en route to a 52-21 trouncing.
The football card world was in a different place in 2004, Roethlisberger's rookie season. But one constant among his Rookie Cards is the Contenders Rookie Ticket Autograph. With the quarterback's legacy long established, it shouldn't be surprising to hear the high-grade copies of the card are well into four figures now. For someone really wanting to test the market or make a splash, the one-of-one Championship Ticket parallel is listed on eBay with a $29,999.99 price tag.
The Daily highlights a key player or personality in the world of sports or collecting from the past 24 hours along with one of their key cards.