The Daily: 2001 Bowman Chrome Albert Pujols RC Autograph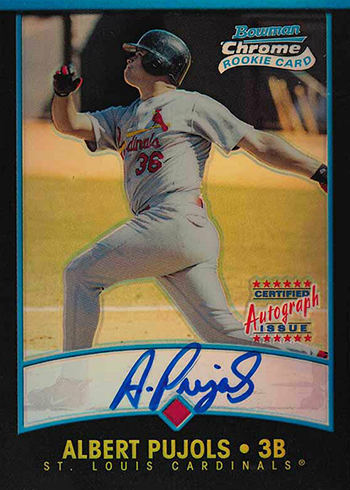 His body might not be what it once was, but Albert Pujols' body of work speaks for itself. Yesterday, Pujols got his 2,000th career RBI. And he did it in style — with a solo home run to the left field seats.
Albert Pujols' 2000th career RBI was a big one.

(Angels x @budweiserusa) pic.twitter.com/YGYwFAl0GF

— Los Angeles Angels (@Angels) May 9, 2019
There's no doubt that Pujols was in exclusive company before. But with that RBI, he becomes just the third player in MLB history with at least 2,000 RBI, 3,000 hits and 600 home runs. The others? Hank Aaron and Alex Rodriguez.
For the past several years, for the most part, we haven't seen peak Pujols. That came when he was with the St. Louis Cardinals. When he broke into the league in 2001, it marked a huge year for baseball cards. With no prior cards, Pujols' Rookie Cards were also his first. He also wasn't the only huge rookie that year. Ichiro was a sensation in Seattle. It's safe to say that both turned out better than pretty good.
The 2001 Bowman Chrome Albert Pujols is a landmark card for a couple of reasons. Besides being his clear-cut top Rookie Card, it helped spark a major evolution for one of the hobby's biggest brands. 2001 Bowman Chrome marked the start of autographs being a cornerstone of the baseball line. They started as base cards and have evolved in the years since to the powerhouse Chrome Prospect Autographs that we have today.
Pujols' card was a redemption so busting packs today — not that many still exist — would be futile. It's also serial numbered to just 500 copies.
Until Mike Trout blew up, the 2001 Bowman Chrome Albert Pujols was the brand's top autograph. And it wasn't even really close. Although it doesn't get quite the same attention today, it's still one of the biggest and most important cards of the 21st century.
The Daily highlights a key player or personality in the world of sports or collecting from the past 24 hours along with one of their key cards.