The Daily: 1997 Fleer/SkyBox Batman and Robin George Clooney Autograph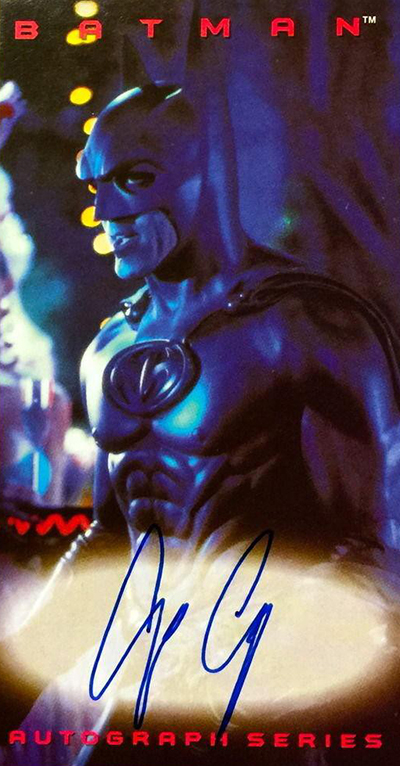 June 12, 1997 was supposed to be a big day for movies. Batman and Robin was hitting theatres with George Clooney taking over the cowl. He was trying to save Gotham from Arnold Schwarzenegger and Uma Thurman.
The movie was horrible. It proceeded to not only tank at the box office, but it killed the 
Batman 
movie franchise — at least for a while until Christopher Nolan came along to redefine it.
Two great things did come from Batman and Robin, though. The first is the DVD commentary from director Joel Schumacher.
The other is the set of 1997 Fleer/SkyBox Batman and Robin trading cards. There's not a lot that's notable on much of the checklist. Cards are done in a tallboy format that was on trend in non-sport at the time thanks largely to the success of the Star Wars Widevision line.
But there's also autographs. Big autographs. This set marks the only time George Clooney has signed for a set of cards. Joining him are co-stars Schwarzenegger (who has actually signed a couple of times), Thurman, Alicia Silverstone (Batgirl), Chris O'Donnell (Robin) and Schumacher. That's a strong lineup, even if half of the names have been dropped from Hollywood's A-list in the two decades since. But even now, there's not a "bad" name among them.
Autographs were extremely tough to pull, falling 1:720 hobby packs. The product also had a retail component but signatures are not possible in those packs.
The Daily highlights a key player or personality in the world of sports or collecting from the past 24 hours along with one of their key cards.