The Daily: 1996 Leaf Signature Series Kirby Puckett Autograph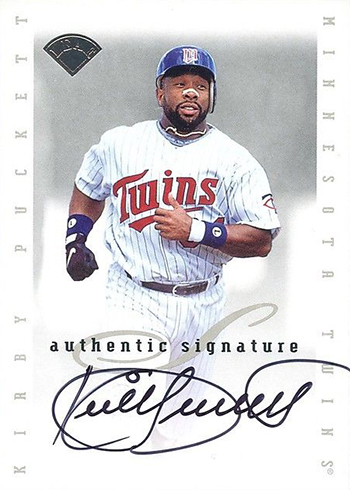 July 12, 1996 was a solemn day for baseball. Kirby Puckett, on of his generation's most talented and beloved players, announced his retirement at the age of 36 after being diagnosed with glaucoma in his eye.
Puckett retired as the Twins all-time leader in several categories including hits and runs. And while he won just one batting title, Puckett was consistently among the best hitters in baseball. Playing at the same time as Wade Boggs probably had something to do with it as well.
On top of all the awards and accolades, Puckett helped bring the Twins a pair of World Series wins in 1987 and 1991. He was a first-ballot Hall of Famer in 2001 but, sadly, passed away in 2006 at the age of 45.
As far as cards go, few players from the 1980s and '90s are as popular as Puckett. He has lots of big cards out there. Among them is the 1996 Leaf Signature Series Kirby Puckett autograph, which was found in Extended Series packs. Limited to 1,000 copies plus 100 Century Marks parallels, it's a short print in the landmark set that had an autograph in every pack.
The Daily highlights a key player or personality in the world of sports or collecting from the past 24 hours along with one of their key cards.