The Daily: 1991 Kayo Muhammad Ali Hologram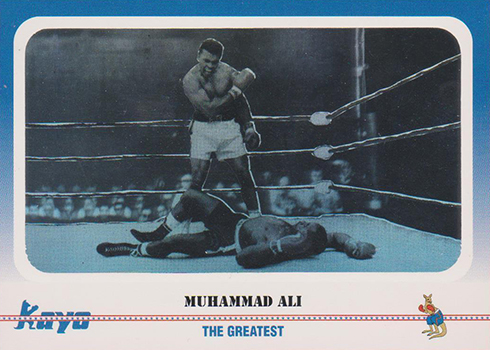 Muhammad Ali was born in Louisville, Kentucky on January 17, 1942. Over the course of his lifetime, he became one of the most influential people of the 20th century. It wasn't just what he did in the ring or how he carried himself outside of it. Ali took a stand for what he believed in, even when it cost him his championships, a prime part of his boxing career and even landed him in prison.
"The Greatest" is the only boxer to hold the lineal heavyweight title on three occasions. More than that, Ali found himself in several of the sport's most important fights, further elevating his mystique and popularity.
When it comes to cards, Ali has lots of them. However, the ones that came out during his career are a lot of international and non-traditional issues like premiums and stickers. In more recent years, there have been entire sets dedicated to Ali from both Upper Deck and Leaf. These modern issues have pricey autographs and memorabilia cards as well.
One Muhammad Ali card that's far from expensive but still cool is part of 1991 Kayo Boxing. Not only does it showcase the iconic photo of Ali standing over a fallen Sonny Liston but it's a hologram. Not much more screams '1991 sports card' than a hologram.
Despite the cool factor, the 1991 Kayo Muhammad Ali hologram is cheap. A ton of them are out there and boxing cards aren't exactly the most mainstream in the hobby, even when it's one as cool as this.
The Daily highlights a key player or personality in the world of sports or collecting from the past 24 hours along with one of their key cards.