The Daily: 1984 Topps Masters of the Universe #13
The Card: 1984 Topps Masters of the Universe #13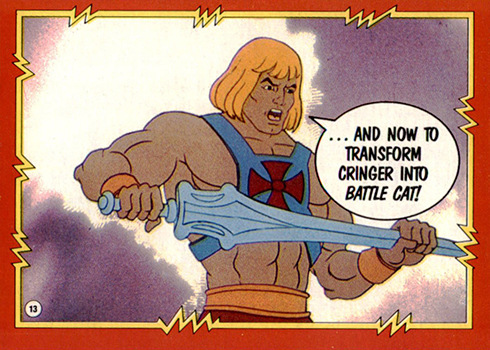 On September 5, 1983, the world of '80s cartoons changed forever when Prince Adam held aloft his magic sword and bellowed out, "By the power of Greyskull, I have the power!" for the first time as part of the animated series.
The show and the toy line are still iconic today, inspiring multiple reboots on both fronts.
But Masters of the Universe wasn't just toys. There were comic books, lunch kits, sleeping bags, chocolate bars, puffy stickers and, of course, trading cards.
These came in a couple of forms, but the most famous is 1984 Topps Masters of the Universe.
It's set up like a lot of Topps non-sport sets from the era, with an 88-card base set and 21 stickers. Cards are done as comic-esque retellings of a handful of episodes, complete with speech bubble captions.
1984 Topps Masters of the Universe trading cards remain very popular today, commanding prices higher that a lot of other sets of the era. Unopened packs and boxes are especially coveted now.
The Daily highlights a key player or personality in the world of sports or collecting from the past 24 hours along with one of their key cards.