The Daily: 1981 Topps Dwight Clark Rookie Card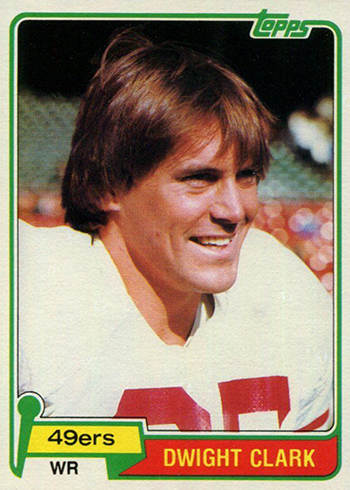 On January 10, 1982, Dwight Clark made "The Catch." And so began the San Francisco 49ers dynasty. His leaping grab in the back of the end zone with 0:58 left on the clock helped secure a 49ers win. With that, they won the AFC Championship over the Cowboys and went on to the win their first Super Bowl.
San Francisco's 28-27 win is now seen as the end of Dallas' dominant run and the beginning of a new one in the bay.
As for Clark, he would go on to have a nine-year playing career, all in San Francisco. He led the NFL in receptions in 1982 and was named to a pair of Pro Bowls. Not bad for someone taken in the tenth round of the 1979 draft.
Dwight Clark's Rookie Card comes in the same set as his teammate, Joe Montana. It doesn't carry nearly the same price tag nor the same level of iconography. That said, it's still a little piece of history from one of the biggest moments in NFL history.
The Daily highlights a key player or personality in the world of sports or collecting from the past 24 hours along with one of their key cards.