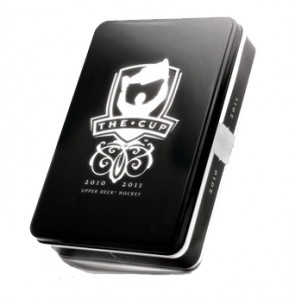 By Andrew Tolentino | Hockey Editor
Tomorrow is Aug. 31.
And?
As any puck-inclined collector can tell you, tomorrow is a special day for the hockey hobby. Wednesday marks the official release date for Upper Deck's yearly opus — 2010-11 The Cup.
Built for whale-chasers and spectators alike, the manufacturer's top-of-the-line brand needs no introduction. Since its inception, it's been a self-fueled steam engine — barreling toward the hobby year after year with some of the most coveted cards of the season.
In the coming days, we'll surely see box breaking, case cracking and other online banter about the latest incarnation, but we wanted to give readers one last chance to comment on what they've seen so far.
Below are a few examples of  the enthusiasm-warranting wonders of the product. Whether you've already seen them in person or not,  we'd like to get your take on what makes (or breaks) a premium line like this.