The Continued Evolution of Topps BUNT
When you click on links to various merchants on this site, like eBay, and make a purchase, this can result in this site earning a commission.
Topps BUNT is no longer a "new" thing. The digital baseball card app is beyond the phase of being something that's new and shiny. It's established.
And just as it was when it debuted in 2012, it's not baseball cards as usual. Is it similar? Yes, but it goes beyond what people traditionally think of when they hear the term "baseball cards."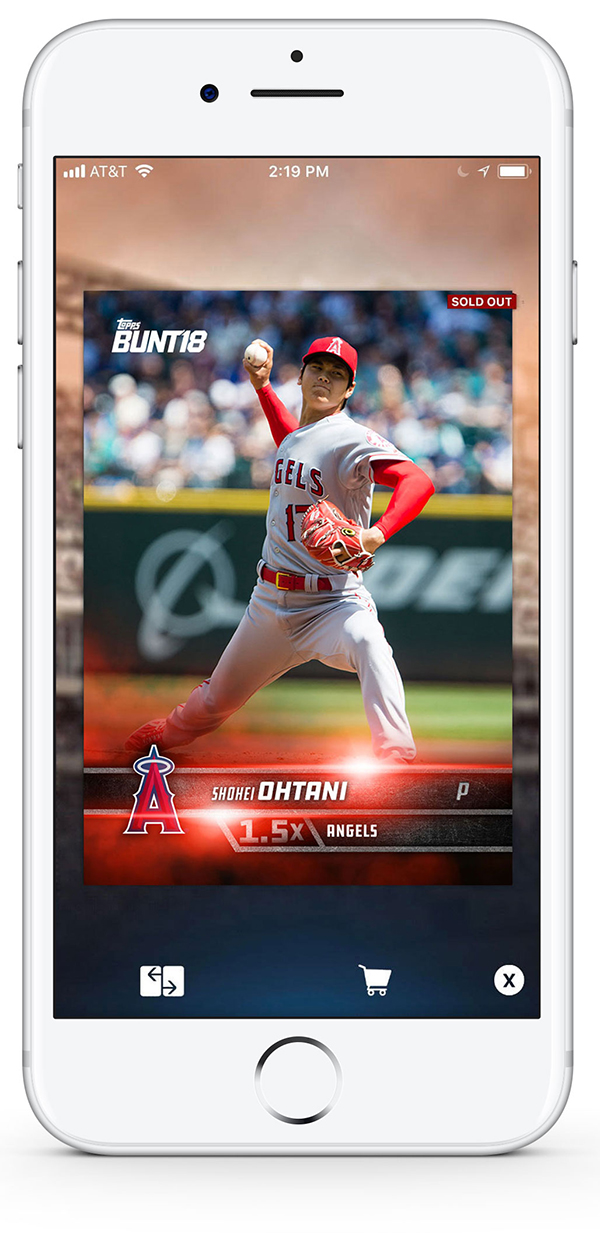 You can still collect sets, players and teams. Like modern physical cards, there are chase elements as well. But with BUNT, and several other Topps digital card apps, there's an interactive element.
"With digital collecting, you can carry your entire collection on your phone or tablet and the cards are dynamic enough to score in real time and present a new and engaging element that keeps collectors coming back not only to build their sets, but also to trade with people around the world and to play competitively in our fantasy-style contests," said Chris Vaccaro, Topps' director of digital content.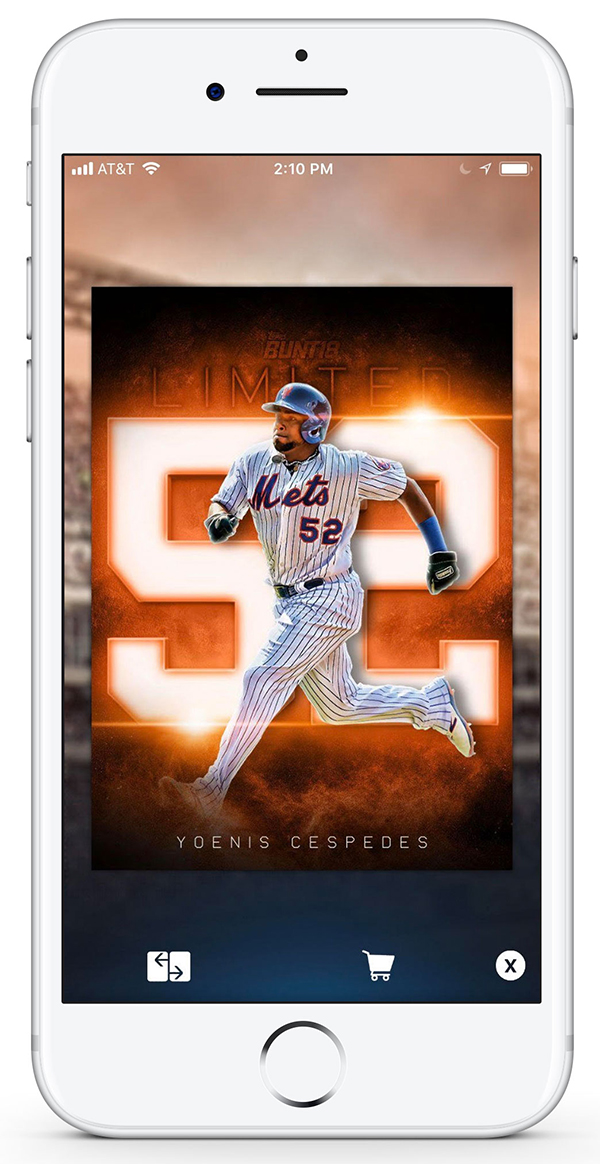 Interactive Advantage
When BUNT began, it was not much more than a digital base set. It was something simple that acted as a foundation for what was to come. A year later, things changed. Inserts were added. Content from physical sets made their way to digital.
But today, it's that interactive side that help set it apart from traditional card collecting.
"A majority of our fans participate in the daily contests," said Vaccaro. "It provides a way for almost every card in the app to be more valuable."
The cards themselves are also more dynamic. Traditional cards are a printed medium. While that has its advantages, they're static. When it comes to card backs, they're more like historical artifacts. With BUNT, those backs are always updating in real-time with each new game. So for those who might not be using the game side of the app, there's still value in using them to see how a player is doing at any given moment.
Challenges of Digital
A lot of apps have a finite life span, at least to individual users. Remember the hours you spent playing Angry Birds and Candy Crush when they first came out? Did you ever mess with the clock on your phone so you could Smurfberries faster and expand your Smurf village with greater efficiency? Good apps are addictive, but it's rare to find one that finds success with a user base for a prolonged period.
"That's a challenge for anyone in the mobile space and we do it with content," said Vaccaro. "We have a content schedule and a roadmap that allows for us to give fans a diversified arrangement of offerings at different times of the day, week and month."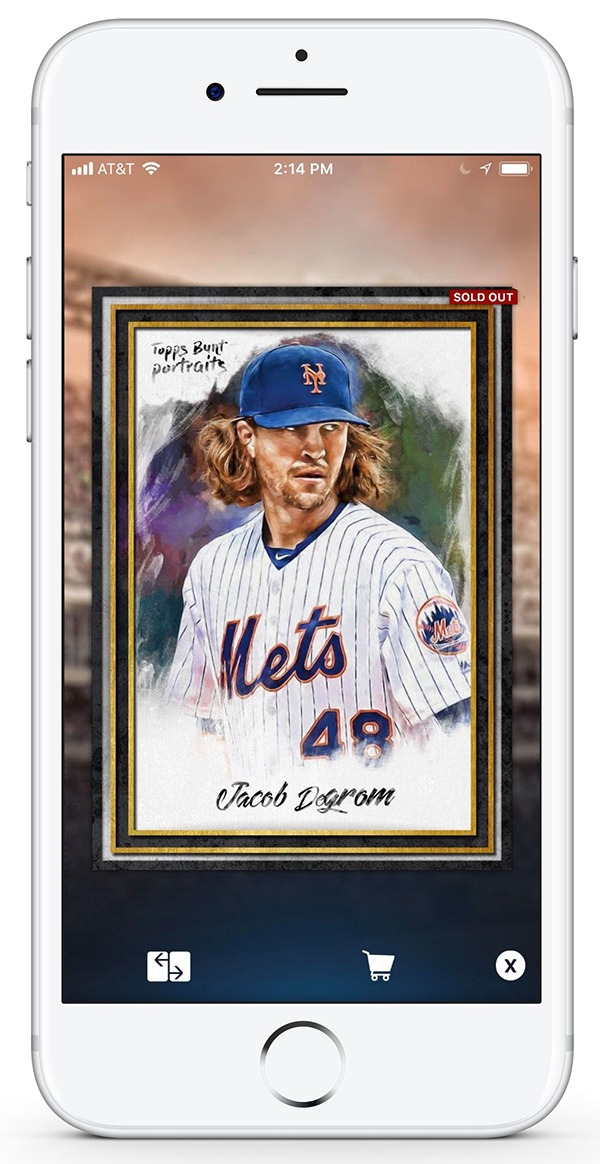 Digital baseball cards aren't for everyone. They're not cards as usual. Many reduce them to "cards on a screen." It's something Vaccaro recognizes.
"It is a picture on your phone. But books are read on phones. Movies are viewed on phones. Bank accounts are accessed on phones. Music is listened to through apps. The world is connected and functions through mobile devices, so to extend our deeply historic and physical brand into the digital world is where we need to be as a company," he said. "These cards also score in a gameplay mode through the fantasy contests, so this extends the notion of it just being a picture, rather, it's a commodity that scores in our custom platform."
2018 Trends
As 2018 rolls along, one player that has crossed over in both the physical and digital baseball card realms wears a Los Angeles Angels jersey. Shohei Ohtani has been popular in BUNT and provided no shortage of opportunities, either.
"He's been unbelievable. I don't think anyone could have predicted how amazing he would be on both sides of the diamond. From a content perspective, he's been a dream as well," Vaccaro noted. "We will be releasing a number of Ohtani cards throughout the coming season and are excited to see how his 2018 campaign plays out."
An area that Topps BUNT '18 stands out is with its Live Signatures. Autograph inserts have been in the platform for several years but they're more like facsimile reproductions. While Live Signatures are obviously digital, they're as close as you can get to actual ink. That means these cards come from actual signings like Topps would do for traditional cards. Sometimes that can also mean customizations with things like inscriptions.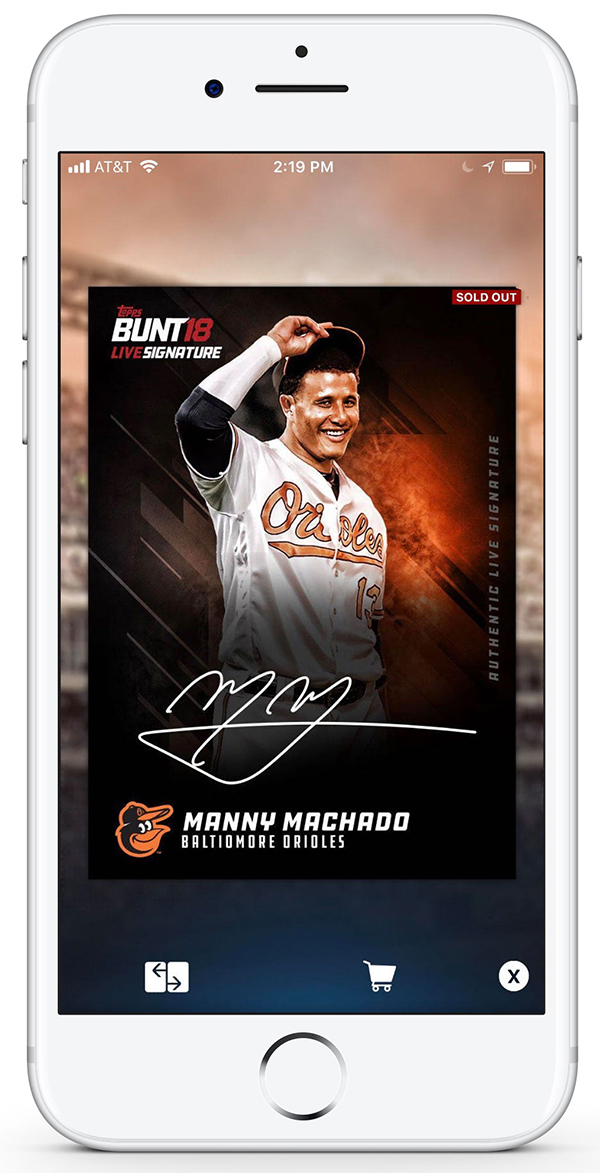 "It's branded with a specific title and we make it clear in our news articles and on social media when a card is a live signature compared to a regular digital facsimile," Vaccaro said.
Another area that isn't new to BUNT but Topps is looking to expand is with their partnerships with other companies. One current example has Topps working with Baseball Prospectus. In the past New Era and Wilson, both big names and natural fits for content, have been featured.
"Branded content featuring big-name brands with connections to baseball makes a lot of sense," said Vaccaro. "It's something different and usually commemorates specific jewel events in different sports. We are able to promote their brands and they are able to promote our special cards on their digital and social platforms. It's a win-win for everyone involved."
New Features for BUNT '18
The evolution of BUNT goes far beyond introducing new cards 365 days of the year. At its essence, BUNT strives to be an experience. That means building on popular concepts and ideas as well as introducing new ones. BUNT '18 has several.
Among them are new Fusion cards, which allow users to upgrade their cards through trading with the app itself. Trading has long been part of BUNT. Users have been able to trade with each other to build their collections, much like traditional physical cards. There's also the Card Exchange where several copies of the same card can be traded for a better one.
"Fusion is a new feature in addition to Card Exchange," said Jon Hanford, app producer for BUNT. "Rather than exchanging duplicates of one card for a specific card, Fusion allows fans to trade in multiple cards from a specific parallel for a random card from the next highest parallel. The exclusive Fusion inserts can be obtained by fusing five, 10, and 20 Gold parallel cards."
BUNT '18 also has couple things to encourage visitors to open the app throughout the day rather than once or twice over coffee breaks. The Prize Wheel is front and center when you open up the app. Go in, give the wheel a spin and get free card (including some Prize Wheel exclusives).
Each spin of the wheel requires tickets. These are replenished at regular intervals. More can also be bought. But if you keep coming back throughout the day, you can clear out the wheel. Diamonds, which are available through in-app purchases, be used to reset the Prize Wheel with a fresh batch of cards.
Even easier are free packs that are available with the pack timer. Every time you open the app, the timer resets. When it runs out, you get another pack.
New Fire Boost cards are given to users who embark on marathon chases. Marathon sets are long-running sets that come out each week. They get their name for the long amount of time these sets last. While most content comes out within a short amount of time, marathons run months. Usually, when users finish these sets they receive special award cards.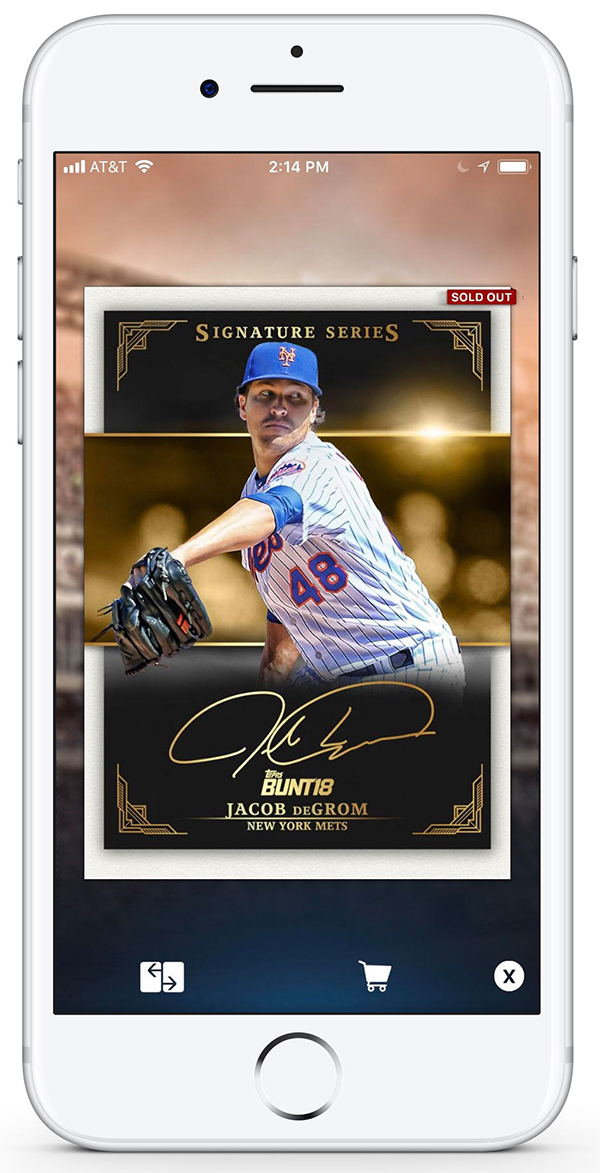 "The Fire Boost cards are earned by fans who collect all the non-limited Marathon inserts released each week. It adds incentive for fans to chase and collect the Marathon cards each week," said Hanford.
In addition to their exclusivity, Fire Boost cards come with the added advantage of scoring higher in BUNT contests than regular base cards.
Speaking of contests, Best of BUNT contests run an entire week instead of just one day. Best of BUNT contests offer up prizes of exclusive cards for the top 1,000 players. The one winner gets a full set of the week's six cards. Other in the top ten get five of the six. The number of cards drops the further down the standings but everyone in the top 1,000 gets at least one of the week's prize cards.
BUNT looks a lot different than it did in 2012. And as things continue to evolve, there's a good chance it'll look even more different in a few more years when the app celebrates its tenth anniversary.