The Coach's Daughter: Lori Bertman and Her Pittsburgh Penguins Collection
Editor's Note: We always encourage readers to tell their story their own way for the Super Collector column, but no one's ever taken up the challenge quite like Penguins super-fan Lori Bertman. Though she came to the sport, and the hobby, later in life than many of us, she brings a passion that's most of us can only dream of. Here's her story, as only she could tell it.
I consider myself only six-years old in hockey years, but I'm a Gen X mother of two living in Baton Rouge, Louisiana, where you can't buy a hockey card to save your life. I've skated on ice one time. It was not pretty and resulted in a lot of bruises. I work in philanthropy as the CEO of the largest family foundation in the state, the Irene W. & C.B. Pennington Foundation. I also co-founded the Center for Disaster Philanthropy (CDP), the only organization of its kind in the world dedicated 24/7 to disaster response and long-term recovery. Essentially, I'm a professional do-gooder and social entrepreneur. I got my degree from UMass Amherst, home of the 2021 NCAA hockey national champions. I had no idea they even had a hockey team back then. Wow, if I'd played my cards right I could have married Minutemen legend Conor Sheary!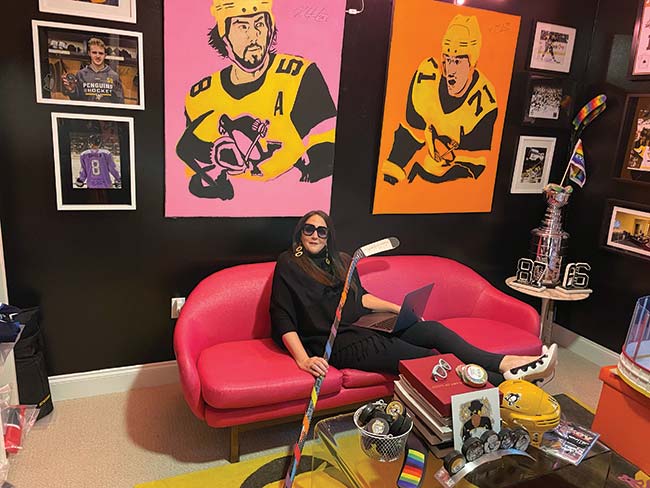 Before you write me off as a snowflake, I promise I've got game. It just hasn't always been the game of hockey. I'm the youngest daughter of Skip Bertman, the most successful coach in the history of college baseball – a true legend. He's the sport's answer to Scotty Bowman, a six-time honoree as National Coach of the Year. Baseball America voted him the second greatest coach of the 20th century. He's won six national championships, the first for the Miami Hurricanes, and then five for the LSU Tigers within one decade. I had the opportunity to attend two Olympics, six national championships, and many tournaments as "The Coach's Daughter."
Because of this, I had no perspective of fandom. Winning or losing was a family business. But my father didn't just win on the field. He was masterful with his fans, and I saw how a moment spent offering a hand-shake, a picture, or an autograph could make someone happy. I also saw how he changed a culture, transforming LSU into an unrivaled program of excellence from virtually nothing.
Although my father is a huge inspiration to me, being an athlete was never my calling. I was happy to be a spectator. Having the access to watch a sport from the front row was an incredible privilege that I didn't take for granted. I found joy in sharing that opportunity with others, whether it was acquiring autographed balls and bats for charity, or giving away my tickets to the random father and son standing outside holding up two fingers, and then sneaking in the press entrance. Not a day goes by even now when someone doesn't ask for a piece of memorabilia signed by my father.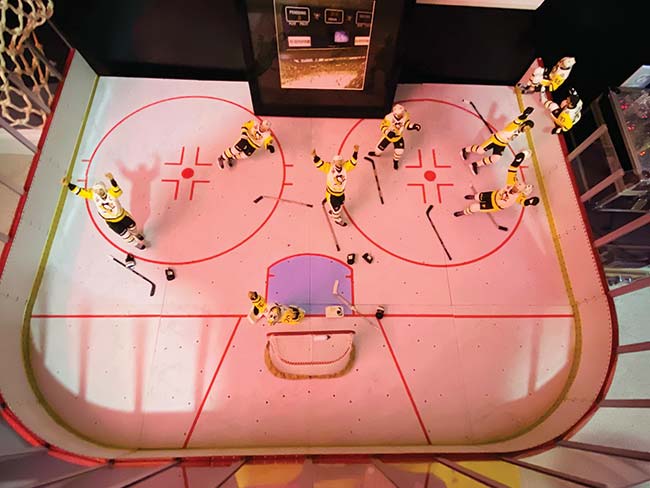 In the words of Pittsburgh Pirate Roberto Clemente, "Anytime you have an opportunity to make a difference in the world and you don't, you are wasting your time on Earth." I discovered that my calling was not to play but to help create a level playing field where everyone could participate in all things equitably.
Almost six years ago, I was severely injured in a life-altering car accident that laid me up for most of 2015. A family friend, Pittsburgh native Rick "Ozzie" Nelson, would call periodically to check in during my recovery while watching a Penguins game. His mood would drastically change depending on how the Pens were playing. He had a hero named Sidney Crosby who I had never heard of before.
He told me to turn the game on, and I was blown away. This was my game! By the time the 2016 Stanley Cup playoffs rolled around, I had already fallen deeply in love with Crosby, Phil Kessel, Kris Letang, Bryan Rust, and the team's owner and former star, Mario Lemieux. Their athleticism amazed me.
By the time the Pens made it to the Final, I was able to travel again. I decided, having never been to a hockey game, that I wanted to go. I worked with a wonderful organization called Athletes for Hope (coincidentally, Lemieux was a founding board member), and the organization's founder, Ivan Blumberg, procured tickets for me.
It was an eye-opening experience. Not understanding the culture, I wore a dress to Game Four of the Final. When I realized how out of place I looked, I ran down to the pro shop and bought a Crosby jersey and a hat, then waited in a long line to get the Stanley Cup logo pressed on. Suddenly I was a theme-dressing bonafide fanatic … and I finally understood Puddy's character from "Seinfeld ."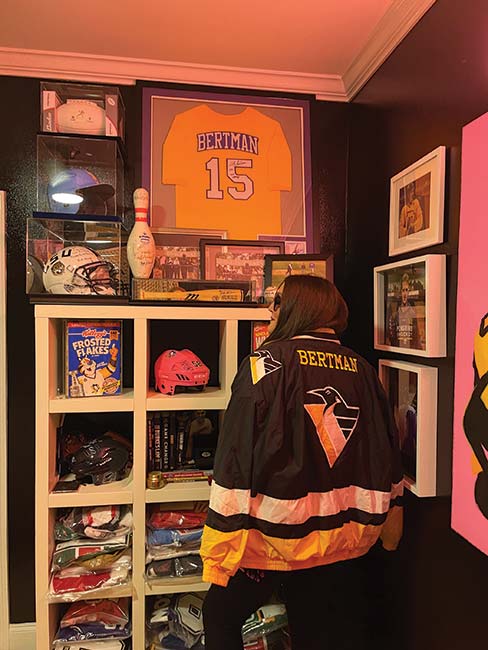 The Pens clinched the Cup at the next game, and that is when I began my journey of collecting hockey memorabilia. First, I focused on anything and everything about the championships. But I had an insatiable passion to learn more about the game, history, and culture inside and out so I signed up for fan groups where I could politely ask questions like what is a penalty kill, or why did we get a point when we lost? I began to collect cards to learn about other teams, players, and the league. Collecting taught me the most about hockey. Cards are miniature pieces of art and I am obsessed with my tailored collection. I focus on Crosby, Lemieux, and the Pens, Hall Of Famers, Willie O'Ree, and Manon Rheaume, to name a few.
By 2019, my collection was quite large and cause-based. I was extremely involved in all the Hockey Is For Everybody programs, including You Can Play, Pride Tape, Hockey Fights Cancer, Stronger Than Hate, women's history, mental health awareness, etc. That year, my buddy Rick and I were invited to meet Phil Pritchard, the "Keeper of the Cup," and get a Penguin-centered tour of the Hockey Hall of Fame archives. Phil has forgotten more about hockey than I will ever know but we shared a similar passion for hockey history, preservation, art, charity, and collecting. Any hockey fan would appreciate the experience, but for a collector it was like entering Willy Wonka's chocolate factory.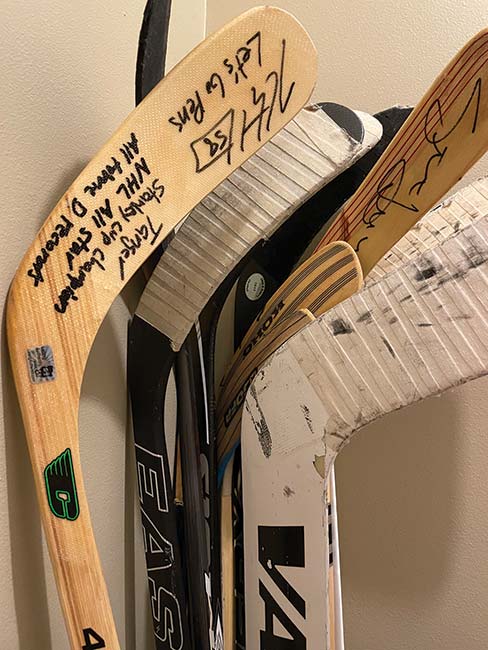 Phil and I kept in touch … and then 2020 and the pandemic rolled around. In my role with CDP, I was involved in the COVID-19 response in the U.S. and was able to spend time with Phil and the team at the HHOF (by Zoom) regard-ing how they would pull off the playoffs (which they did better than any other sports league) and manage a long-term closure. As with most organizations during this time, creativity was key. We held Tales of the Cup Zoom meetings for fans and discussed ways to engage people during the shutdown.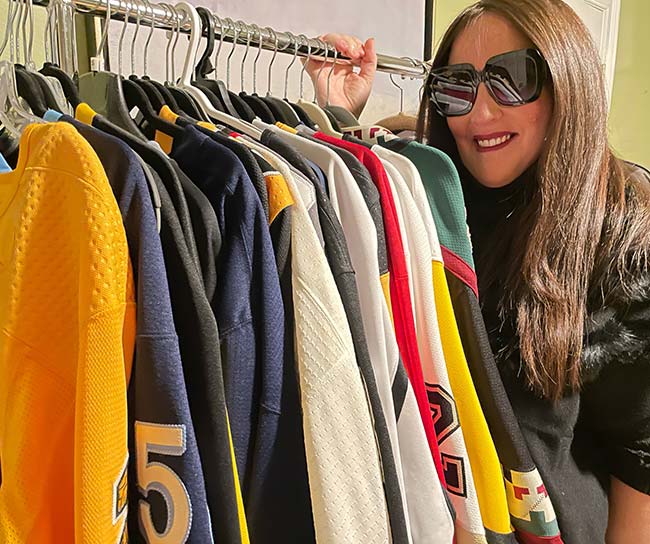 At that time, the Hall created a fundraising cabinet that they invited me to serve on. It's been a wonderful opportunity to use my professional knowledge to help a hobby and sport that I love. I also appreciate bringing a new perspective or idea to the table and seeing it acted upon. Most recently, we started working with the Pens Foundation to bring the HHOF mobile museum to Pittsburgh for Black History Month Night, on Jan. 30, 2022. I'm excited about this event because it isn't just about one night to celebrate black history, but the movement to bring hockey to kids of color that otherwise would not have access. If hockey really is for everyone, it should be for everyone every day.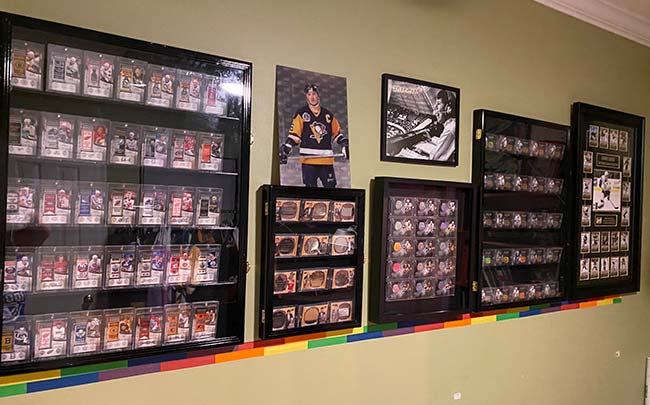 While I've been blessed with many opportunities, I do face challenges in the hobby because of my location. I don't have the chance to buy cards or go to games or signings, things that so many others take for granted, so I've gotten crafty about getting others to be my proxy. I'm well known in the online collection space, and people know what I'm looking for. For example, I'm an avid collector of locker room signs with inspirational sayings, and this year I even got the Penguins rug straight from their room. I also have a pair of Crosby's shorts and a Kessel laundry bag. Mostly though, I love hockey art and anything of vintage design. I have all the Canucks sweaters just because I adore the logo. I'm crazy about my one-of-a-kind 2017 Penguins championship table model rink. It was done by an artist in Ohio. Also, I'm proud of the You Can Play jerseys made for me and my father with our names and his number 15. Oh, and of course, my Pride sticks and jerseys. The Kessel stick is my favorite because of the way he used the tape and because he's my favorite player. Another special item is a Canadian Blind Hockey puck given to me by Craig Fitzpatrick, a veteran who started playing hockey at age 36 and was on the USA Blind Hockey team.
I've accumulated so many amazing items, but I didn't want to be a collector that kept everything in the boxes. Fortunately, I have a unique space to display my favorite pieces. When my son moved out, I turned his room into a stylish she-shed. It's mainly an homage to the Pens, hockey, my father, my own work, other beautiful collectibles, and my design aesthetic.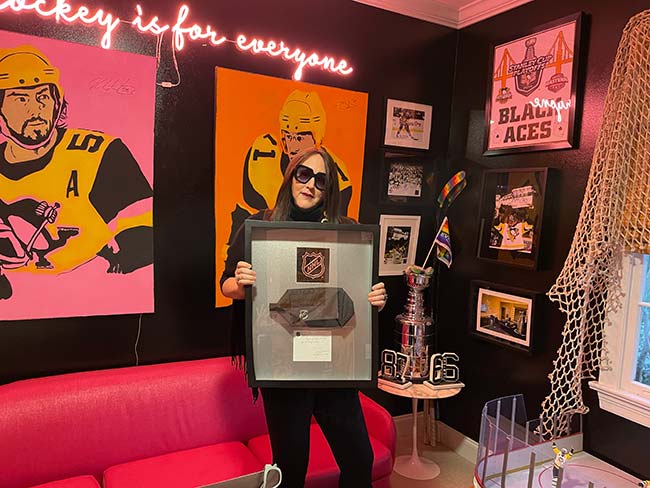 Even with all this space, I wish I had more room for my puck collection, which also is cause-focused. One of my biggest challenges is to finish a puck collection I started for the 1991/92/09 champion-ships. I thought it would be easy but it's tough to track down the exact puck design. My other white whales would be Sidney Crosby's Rookie Card and a lifetime supply of Tim Hortons hot chocolate.
So, when I say I'm six years old in hockey years, I'm not only referring to the number of years I've been a fan, but to the child-like passion I have for the sport. On a Zoom call with Hall of Fame chairman Lanny McDonald, my first instinct was to run and grab all of my latest cards that I have pulled of him and show him each one. I recently emailed him a picture of his 2019-20 Upper Deck Metal Universe Clear Cut Palladium card with the subject line "How Cool Is This?" And I swear I cried when Kessel was traded from the Pens to Arizona in 2019. I sought counseling from Brian Burke about it at the Pride Parade the day it was announced. I've since learned never to get too attached to a player in one hockey jersey.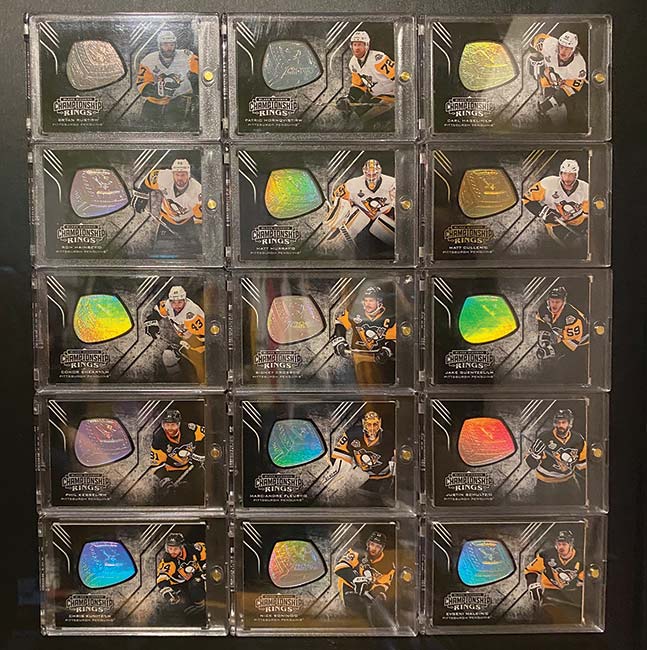 I have met the most wonderful humans in this hobby and they often send me things from all over the world, and I do the same for them. People have traded me hockey items for signed items from my father – apparently hockey players enjoy baseball. Being generous and helpful will always come back to you in this hobby. I must thank Matthew Alberts, who has been my Pens collection guide and partner in all good deeds, and Denis Cabral for making me set up an Instagram page just for hockey and being such a focused and committed collector. There are so many others. My best friend Heather, who helped me bake a Stanley Cup bubble cake just because I'm excited about the Pens playing in the playoffs, and later helped me paint a room black and get a neon "Hockey Is For Everyone" sign. My colleague Bob Ottenhoff gifted me my first signed Pens jersey, a Vegas Gold Letang. Everyone at the HHOF for letting a southern girl who knew nothing about the sport six years ago have a voice, and for being committed to preserving and teaching all history of the game, good, the bad, and ugly, so we don't repeat it. The Pens Foundation, which I love for going beyond performative to progressive in their programming under the leadership of Jim Britt. And finally, thanks to hockey for bringing me unexpected joy during a very rough time. If this sport can sweep a progressive Jewish Southern baseball coach's daughter off her feet, it can also work through its current troubles and ensure that their response and willingness to make an honest shift in the culture is what anyone remembers. We can all do better.