The Baseball Cards and Memorabilia of Jose Canseco's Head-Bounce Home Run – Beckett Pricing Insider
Jose Canseco was mostly known for power and his ability to mash home runs. But 26 years ago, Canseco made one of the most notorious plays in baseball history that has gone on to become, perhaps, the most famous blooper in all professional sports.
The date was May 26th, 1993 and Canseco was playing right field for the Texas Rangers. They were in Cleveland playing the Indians at Cleveland Municipal Stadium when Carlos Martinez hit a fly ball over Canseco's head. As he was initially running back, it appeared he had a read on the ball. But that quickly changed. He may have lost the ball in the sun or maybe he was too worried about how close the wall was. Either way, Canseco missed the ball and it bounced off the top of his head and over the outfield fence for a home run.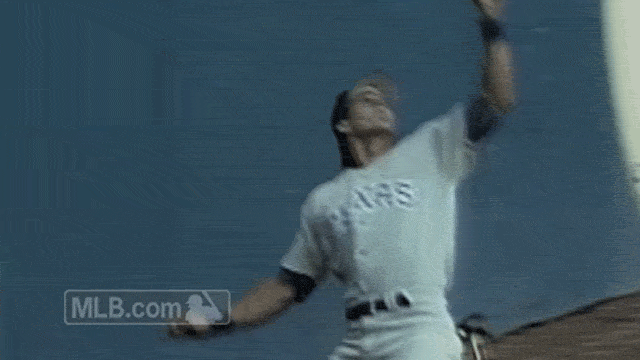 As embarrassing as the moment was, it lives on through a couple of baseball cards:
1994 Fun Pack #209 Jose Canseco
Fun Pack was a brand issued in the early '90s by Upper Deck that targeted young collectors. The main set is comprised of multiple subsets that use bright colors and eye-popping designs.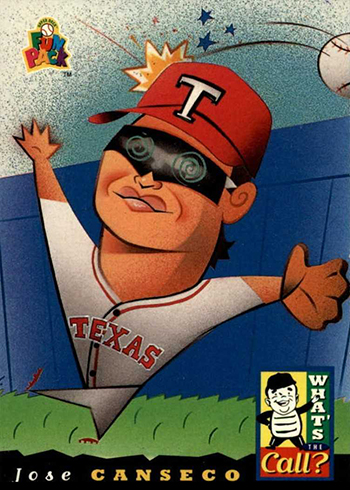 Canseco's card is a part of the "What's The Call?" subset with a question on the back about what the correct call should be. While Canseco refuses to call it a home run and instead calls it his "4 base error," we all know it was a home run. A common card, you can find this card for very little.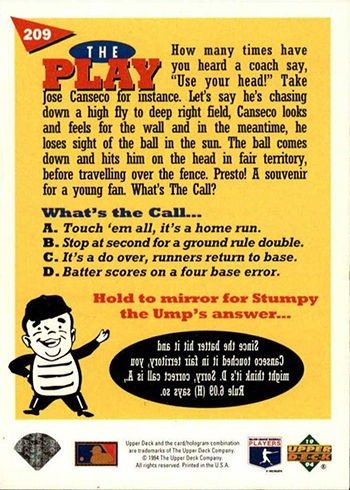 2004 Bazooka One-Liners Relics #JC Jose Canseco Bat
Coming out of boxes of Topps' early '00s Bazooka brand, the One-Liners Relics feature a game-used piece as well as a famous quote the player once said.
For Canseco they used his explanation from after the game for why he missed the ball. The best part has got to be the last line, "I'll be on ESPN for about a month." I think he underestimated that one. Twenty-six years later and I can promise you someone at ESPN will mention it today.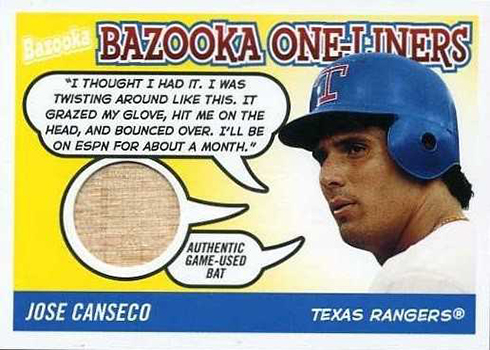 There is also a Refractor parallel numbered to 25 of this card.
The base version sells for around $5.
Game-Worn Autographed Hat
Yep, the hat that the ball bounced off of is in somebody's collection. It last sold publicly in 2012 through Heritage Auctions. The hat was expected to sell for $800-$1,200. Those estimates were on the low side and the cap went for $11,950.