"The American Dream" Dusty Rhodes dies at 69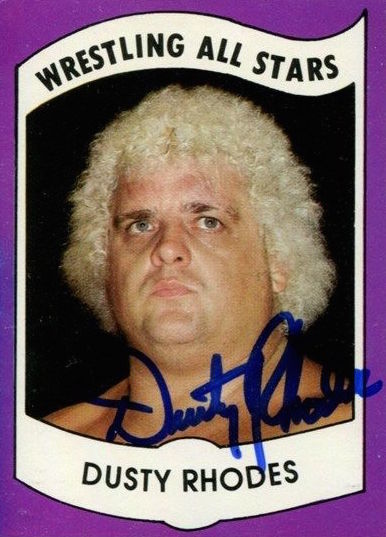 By Chris Olds | Beckett Sports Card Monthly Editor
Professional wrestling lost one of its greatest performers and influential minds behind the scenes on Thursday with the passing of "The American Dream" Dusty Rhodes. He was 69.
A member of the WWE Hall of Fame and a three-time NWA champion, Rhodes (aka Virgil Runnels) turned his ability to talk people into arenas into a lengthy in-ring career that began in 1968 and continued for 40 more years as a performer, booker and producer for several wrestling organizations. He had continuously worked behind the scenes in WWE since 2005.
His working-man persona and non-traditional physique added to his unique package that captivated fans around the world.
"I admit I don't look like the athlete of the day is supposed to look. My belly's just a little big, my hiney's just a little big, but, brother, I am bad and they know I am bad," Rhodes said in his famous "Hard Times" promo from 1985 advancing a match with "The Nature Boy" Ric Flair.
[youtube]https://www.youtube.com/watch?v=9py4aMK3aIU[/youtube]
On cardboard, Rhodes has a somewhat limited resume with just 142 items in the Beckett database (click here for checklist) valued at nearly $600, excluding rarities. His key card is from the landmark 1982 Wrestling All-Stars set, which typically sold for $50 or less before the news.
Despite a lengthy career in wrestling, he appears on just four certified autograph cards. The first was in the 2004 Pacific TNA set, while Topps released a dual autograph of him with son Cody Rhodes in its 2009 WWE set. His only other autographs are found in 2013 Topps Best of WWE and in 2014 Topps Chrome WWE, a card where is paired with Jack Swagger.
In the ring, Rhodes' legacy continues with his two sons — Goldust (Dustin Runnels) and Stardust (Cody Runnels) — and his daughter in law Eden (Brandi Runnels) who works as ring announcer. All also appear on trading cards.
Chris Olds is the editor of Beckett Baseball and Beckett Sports Card Monthly magazines. Have a comment, question or idea? Send an email to him at colds@beckett.com. Follow him on Twitter by clicking here.