The 2019 Topps Heritage Pat Neshek Is More Than an Homage, It's Personal
From the beginning, Topps Heritage has been about paying tribute to the past. The most obvious way is through the designs. But there are often other subtleties and winks that can easily be overlooked. Such is the case with the 2019 Topps Heritage Pat Neshek.
At first glance, your reaction might be, "Cool. He's wearing sunglasses."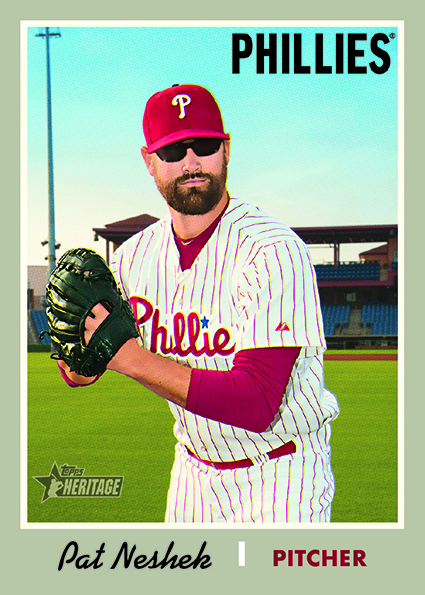 And that was very intentional. It's one of those homages. If you collected 1970 Topps Baseball, the set 2019 Heritage is based on, you might recognize it. Neshek's card is modelled after Lowell Palmer and his magnificent pair of sunglasses.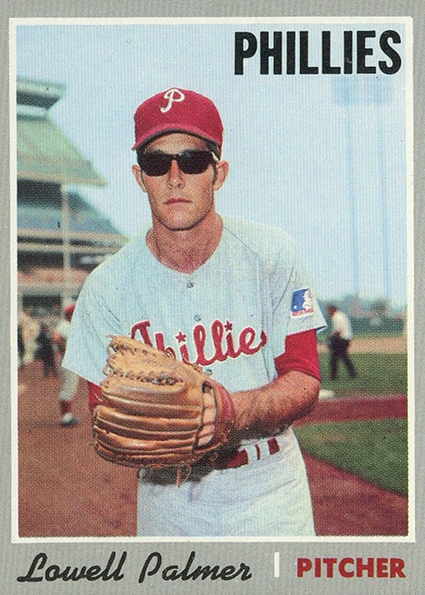 But there's more to this particular tribute than just what's shown on the card. For Neshek, an avid card collector and Heritage fan, it's personal.
A lot of planning goes into Topps Heritage each year. As Topps brand manager Jeremy Fullerton was getting ready to put the set together, he knew that he wanted to give a hat tip to the Palmer card. But he and his team knew that to make it happen, they'd need to pick a player who wouldn't mind having a slightly out-of-the-norm photo.
Enter Neshek.
"I think a bunch of guys knew how much this meant to me and asked me if I would be willing to recreate Palmer's 1970 Topps card," Neshek recalled.
Not only did he get it, but Neshek was a perfect fit seeing as how he, like Palmer, was with the Phillies.
"I was thrilled and so pumped they would think of me," Neshek said.
The two cards both share the same card number as well, #252.
And it turns out, Neshek isn't actually wearing sunglasses in the original photo used for his 2019 Topps Heritage Baseball card. They were added digitally to an image Topps had that resembled Palmer's.
The Personal Touch
To Neshek, the meaning behind this card goes deeper. It turns out that 1970 Topps is one of his favorite sets. In fact, thetwo-time All-Star currently has the top-ranked set in the PSA set registry. He's been working on it for more than a decade.
"I remember thinking back in 2014 that I might have a shot to get a '70 Heritage but you can never be sure," said Neshek.
Now he's excited to not only appear in the set but have a direct homage to the original set he loves so much.
"Big shout-out to the Topps team on this it was all their idea," Neshek said. "If I never get another card I'm totally content with how cool this turned out."