The 12th Man Is Here – Beckett Pricing Insider
This edition of the Beckett Pricing Insider is brought to you by GTS Distribution. Watch Go GTS Live – The Hobby's Web Show, every Thursday at 9 PM EST.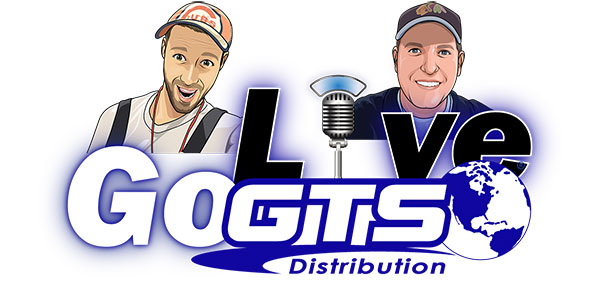 The Seattle Seahawks have one of the most unique histories in the NFL. They joined the league in 1976 as a member of the NFC, which lasted only one season before moving to the AFC West. It wasn't until they made the move back to the NFC West that they had Super Bowl success.
Seattle has appeared in three Super Bowls, winning one. This is also when the Seahawks changed some of their jersey colors and have produced some awesome patch cards for collectors to chase. Beckett's resident Fat Packs host and Seahawks fan, Eric Norton, told me some his favorite players and I've matched them up with some big football cards.
2012 Panini National Treasures #325 Russell Wilson JSY AU RC /99 BGS 9 – $2,700
We have to start out with one of the most successful Seahawks of all time. Since his arrival in the league, Wilson has only missed the playoffs one time (2017). Even then, he still had a winning record that year. This card from his rookie season has one of those sought-after logo patches that collectors go nuts for.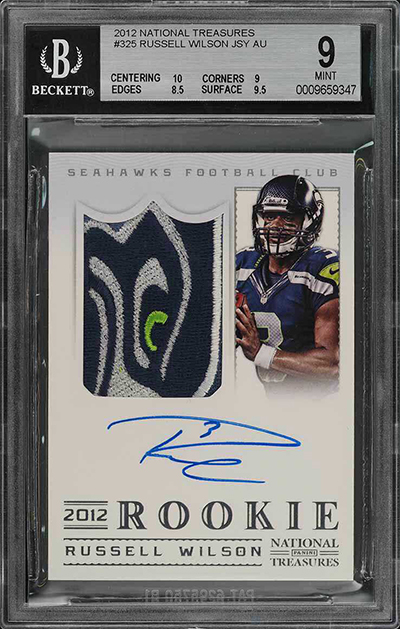 2007 Topps TX Exclusive Super Bowl Ticket Stub Autographs #SA Shaun Alexander
This card uses a seldom-used concept of combining an autograph on an actual Super Bowl Ticket Stub. This is the kind of oddball card that a lot of collectors enjoy as it crosses over into several categories.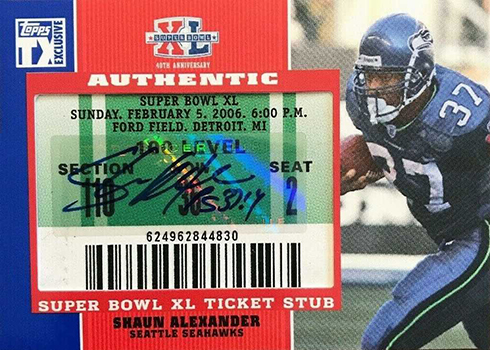 2011 Playoff National Treasures Emblems of the Hall Signature Materials Prime #19 Steve Largent /15
This wouldn't feel like a complete article without having a card from the first Seahawk to be inducted to the NFL Hall of Fame. This particular card has an awesome three-color patch from one of the team's vintage jerseys.