The $100 SS Baseball Card Starter Kit – One-Sheet Collections
For many, nostalgia remains the driving force behind baseball card collecting, and that's how I arrived at the idea of One-Sheet Collections.
It's a simple concept with infinite possibilities.
Take a single nine-pocket sheet and a reasonable $100 budget, and build a nine-card collection with a unifying theme.
Continuing on with our recent theme, I'm once again focusing on a specific position and building a nine-card "starter pack" that can serve as a foundation for a collection specific to one spot on the field.
I've already done the catchers, first basemen, second basemen and third basemen. Now it's time for the shortstops. What nine cards focusing solely on the shortstop position would you buy with a $100 budget?
Here's what I picked:
1983 Topps #163 Cal Ripken ($10)
A 19-time All-Star and baseball's Iron Man, Cal Ripken Jr. helped revolutionize what was largely a defensive-minded position. He racked up 3,184 hits, 431 home runs, 1,695 RBI and 95.9 WAR in 21 seasons, winning a pair of AL MVP awards along the way.
His Donruss ($50), Fleer ($40) and Topps ($50) Rookie cards were all prohibitively expensive for our $100 budget, so we've instead opted for his second-year Topps card from a great-looking 1983 flagship set.
Buy on: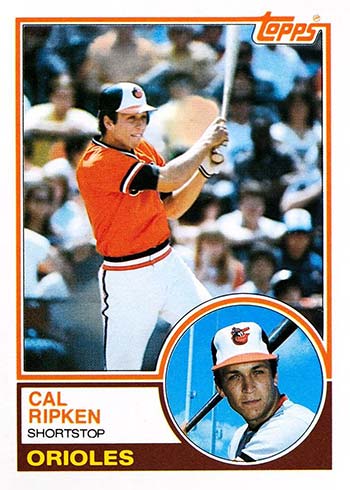 1987 Topps #648 Barry Larkin RC ($2.50)
The No. 4 overall pick in the 1984 draft, Barry Larkin spent his entire 19-year career with the Cincinnati Reds. He tallied 2,340 hits, 198 home runs, 379 steals and 70.5 WAR, while earning 12 All-Star selections, three Gold Glove Awards and 1995 NL MVP honors.
His Rookie Cards are all extremely affordable, and while the Donruss ($4) and Fleer ($10) options carry a slightly higher price tag, there's nothing quite like that 1987 Topps wood grain look.
Buy on: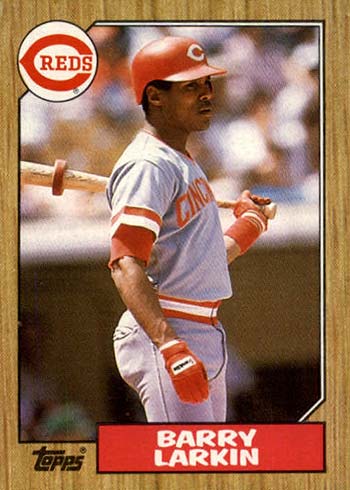 1992 Topps Traded #39T Nomar Garciaparra USA RC ($12)
If not for injuries, Nomar Garciaparra might have claimed a place alongside some of the other legends on this list in Cooperstown. During his first four full seasons in the majors, he hit .337/.386/.577 while averaging 44 doubles, 28 home runs, 105 RBI, 13 steals and 6.9 WAR, winning a pair of batting titles in the process.
At its peak, this was one of the hottest cards on the market, checking in with a book value north of $100. His inclusion in the 1992 Topps Traded set as a member of Team USA came a full two years before he was drafted by the Boston Red Sox. His next Topps card was not until 1995.
Buy on: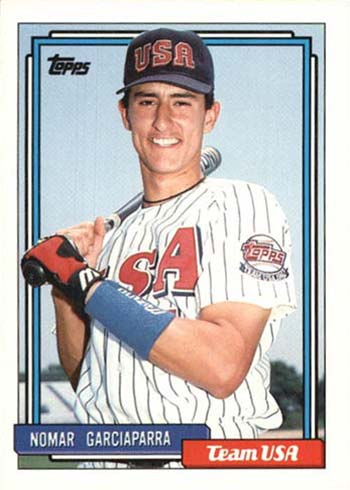 1993 Topps #98 Derek Jeter RC ($30)
Outside of maybe Ken Griffey Jr., there is no player from the 1990s/2000s with more enduring popularity in the hobby today than longtime New York Yankees shortstop Derek Jeter. With a .310 career average and 3,465 hits, he was one of the best hitters of his era, and his postseason track record is unparalleled.
There are eight different Derek Jeter Rookie Cards, with the foil 1993 SP ($1,000) reaching four-figure status and the 1993 Stadium Club Murphy ($150) also fetching a pretty penny. Among the more affordable options, there's none more iconic than his 1993 Topps flagship.
Buy on: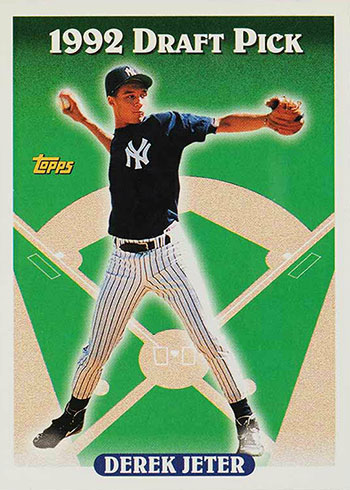 1994 Fleer Pro-Visions #5 Ozzie Smith ($1.50)
Ozzie Smith built a Hall of Fame career on the strength of elite defense at shortstop, winning 13 Gold Glove Awards in 19 seasons. That said, he also tallied 2,460 hits and 580 steals as a top-of-the-order table-setter.
His 1979 Topps Rookie Card ($120) eclipses our entire budget. While there are plenty of worthy choices from his early career, his 1994 Fleer Pro-Visions insert is one of my all-time favorite cards. In my opinion, it's the coolest entry in the multi-year run of Pro-Visions sets.
Buy on: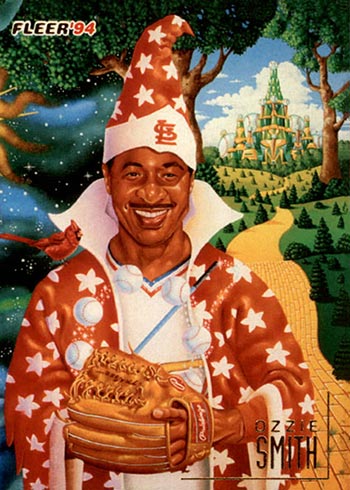 1994 Upper Deck #24 Alex Rodriguez RC ($15)
Love him or hate him, Alex Rodriguez has a significant place in baseball history. His career began as a teenager manning the shortstop position for the Seattle Mariners. His 696 home runs and 2,086 RBI both rank fourth on the all-time list, and his 117.5 WAR cracks the top 20.
Among his six different Rookie Cards, the foil SP ($80) is still the most recognizable. With no Topps flagship rookie, I'll instead turn to his Upper Deck "Star Rookie" to fill his slot in our collection.
Buy on: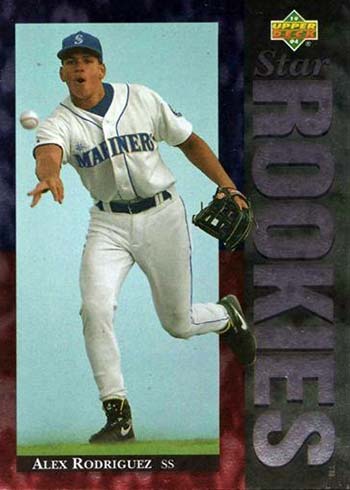 1998 Bowman #181 Jimmy Rollins RC ($5)
One of the few newcomers on the 2022 Hall of Fame ballot to secure enough votes to stick around for another year, Jimmy Rollins received 9.6 percent support. He was a three-time All-Star, four-time Gold Glove winner, 2007 NL MVP, and one of the stars of a Phillies team that won the World Series in 2008.
A second-round pick in 1996, Rollins has only two Rookie Cards, which are featured in the 1998 Bowman and 1998 Bowman Chrome ($10) sets. His first Topps card came in the 2001 Topps Traded set, and his first flagship card came the following year with the rookie cup.
Buy on: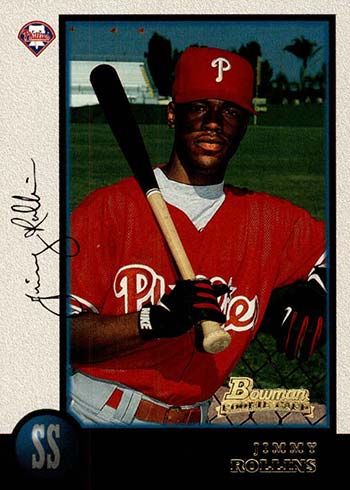 2019 Donruss #254 Fernando Tatis Jr. RR RC ($15)
Fernando Tatis Jr. headlines an impressive young crop of rising stars at the shortstop position right now. After a 42-homer, 25-steal, 6.6-WAR performance in his age-22 season, it's easy to dream on what his future might look like.
With a staggering 53 different Rookie Cards, there are options at every price point, and while his 2019 Donruss card is not licensed by MLB, it's still a sharp-looking card that includes the iconic "Rated Rookie" logo.
Buy on: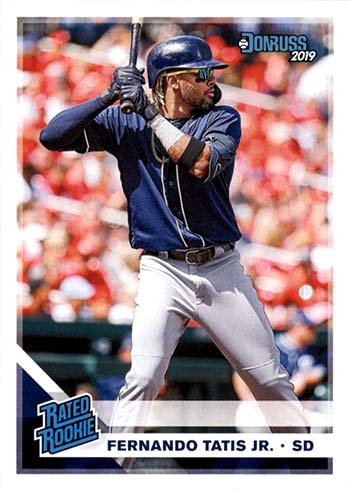 2019 Topps Pro Debut #50 Wander Franco ($8)
The hype train left the station long before Wander Franco made his MLB debut last season with the Tampa Bay Rays, and the early returns were promising. The 20-year-old hit .288/.347/.463 with 30 extra-base hits and 3.5 WAR in 70 games, and he had a 43-game on-base streak.
His early cards are among the hottest commodities on the market right now, but his first Topps card in the 2019 Topps Pro Debut set is still reasonably priced as a result of it being part of a minor league set. It's the perfect cap for our shortstop collection.
Buy on: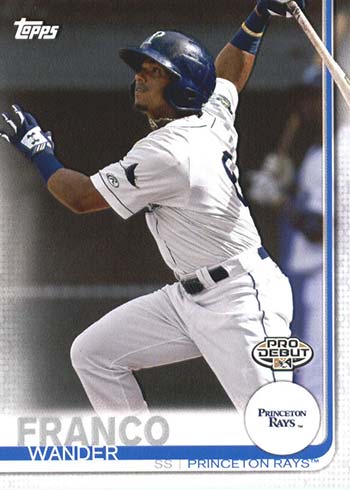 Total: $99