The $100 CF Baseball Card Starter Kit – One-Sheet Collections
For many, nostalgia remains the driving force behind baseball card collecting, and that's how I arrived at the idea of One-Sheet Collections.
It's a simple concept with infinite possibilities.
Take a single nine-pocket sheet and a reasonable $100 budget, and build a nine-card collection with a unifying theme.
Continuing on with our recent theme, I'm once again focusing on a specific position and building a nine-card "starter pack" that can serve as a foundation for a collection specific to one spot on the field.
I've already done the catchers, first basemen, second basemen, third basemen and shortstops. Now it's time for the center fielders. What nine cards focusing solely on the center field position would you buy with a $100 budget?
Here's what I picked:
1985 Topps #536 Kirby Puckett RC ($30)
From the time he burst onto the scene to finish third in AL Rookie of the Year voting in 1984, Kirby Puckett was a fan favorite for the Minnesota Twins. Over the course of his 12-year career, he hit .318/.360/.477 with 2,304 hits, 207 home runs and 1,084 RBI. He was a 10-time All-Star, six-time Gold Glove winner, and he won a pair of World Series rings.
His 1985 Topps Rookie Card is one of the iconic cards of that decade, though he also has rookies in the 1985 Donruss and Fleer sets. His 1984 Fleer Update XRC is his most sought after early card, but it doesn't fit the budget here.
Buy on: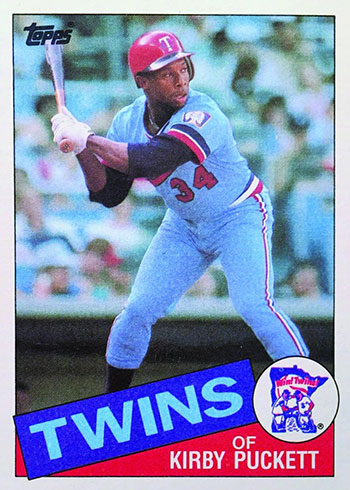 1989 Donruss #33 Ken Griffey Jr. RC ($15)
Ken Griffey Jr. launched 630 home runs during his storied career, and he was the face of the sport and a legitimate pop culture figure throughout the 1990s. He was a 13-time All-Star, 10-time Gold Glove winner, and he's a strong contender for the title of coolest player in MLB history.
There is little question Griffey's 1989 Upper Deck #1 is the most recognizable of his six different Rookie Cards, but his Donruss "Rated Rookie" is legendary in its own right and fits comfortably into our $100 budget.
Buy on: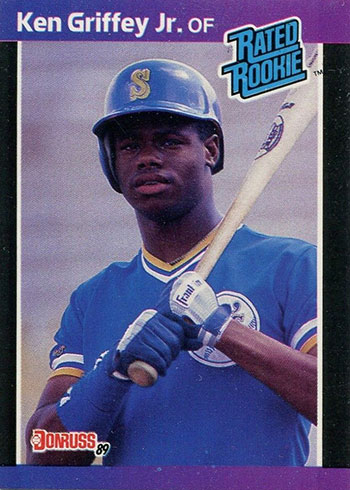 1991 Bowman #565 Kenny Lofton RC ($1.50)
It's an absolute crime that Kenny Lofton only received 3.2 percent of the vote in his one and only year on the Hall of Fame ballot. The best leadoff hitter of the 1990s, he set the table for some stacked Cleveland lineups, piling up 2,428 hits and 622 steals in 17 seasons. His 68.4 WAR ranks ninth all-time among center fielders.
Buy on: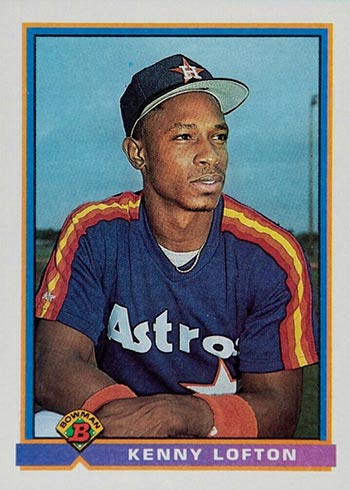 1993 Topps #799 Jim Edmonds RC ($2)
Jim Edmonds is one of just five center fielders in MLB history to hit 40 home runs and win a Gold Glove in the same season. He did it in 2000 and 2004, joining Willie Mays (x4), Ken Griffey Jr. (x4), Andruw Jones (x2) and Carlos Beltran (x1) in accomplishing the feat. He won eight Gold Gloves total and hit 393 home runs in 17 seasons.
A seventh-round pick in 1988, his Rookie Cards didn't come until five years later when he was featured in the 1993 Topps and 1993 Ultra base sets, as well as the 1993 Fleer Final Edition update set.
Buy on: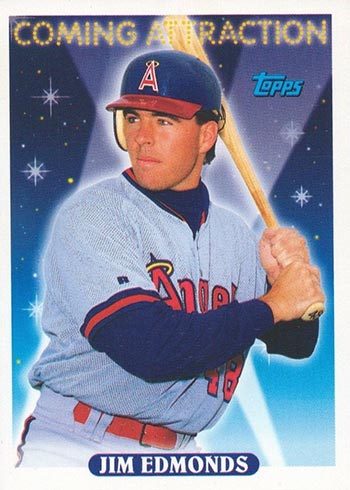 1994 Bowman #104 Torii Hunter RC ($5)
The Minnesota Twins selected Torii Hunter with the No. 20 pick in the 1993 draft out of high school, and he didn't become an everyday player in the majors until eight years later. Despite being something of a late-bloomer, he still finished with 353 home runs, 1,391 RBI and 50.7 WAR while winning nine Gold Gloves.
While his first Topps card didn't come until 2000, he has Rookie Cards in the 1994 Bowman, Pinnacle and Score sets, and the Bowman is the most valuable of the bunch with a modest $5 price tag.
Buy on: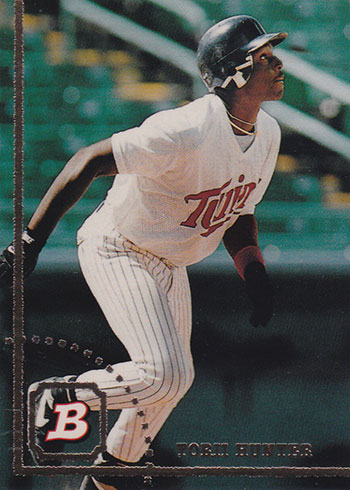 1995 Bowman's Best #B7 Andruw Jones RC ($15)
The No. 1 prospect in baseball at the start of the 1996 and 1997 seasons, Andruw Jones is one of the most hyped teenagers in the history of the sport. With 10 Gold Gloves, 434 home runs and 62.7 WAR in 17 seasons, he belongs in Cooperstown, and his voting total is trending in the right direction with five years left on the ballot.
The 1995 Bowman and Bowman's Best sets contain the only Rookie Cards of the former Atlanta Braves star. His first Topps card came the following year when he was featured alongside Vladimir Guerrero on a prospects card.
Buy on: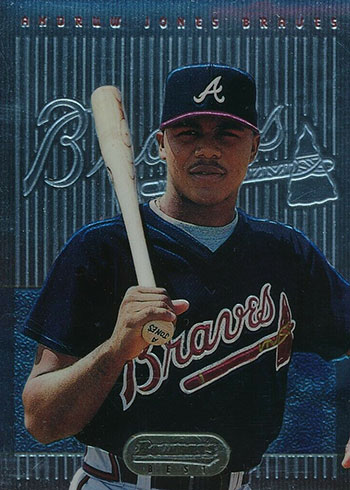 1997 Bowman #377 Carlos Beltran ($2)
Carlos Beltran burst onto the scene in 1999, hitting .293/.337/.454 with 22 home runs, 108 RBI and 27 steals to win AL Rookie of the Year. He finished his 20-year career with 435 home runs and 315 steals, making him one of only eight members of the 300/300 club.
His only true Rookie Card is in the 1995 Topps Traded set, and it's an error card with the photos of Beltran and fellow Royals prospect Juan LeBron mixed up. Rather than try to decide which of those two cards is the best representation of him, we've opted for his 1st Bowman card in the 1997 Bowman set.
Buy on: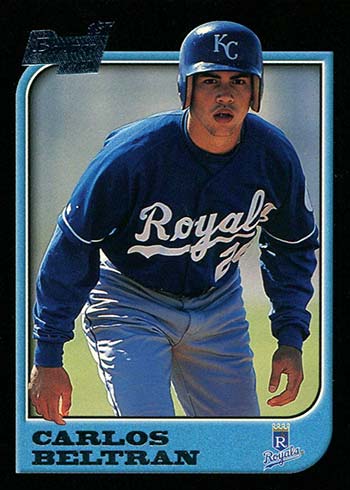 2013 Topps #27 Mike Trout ($5)
Entering his age-30 season, Mike Trout has already tallied 310 home runs, 203 steals and a staggering 76.1 WAR. He is a three-time AL MVP, nine-time All-Star, and simply put the best player on the planet. If he retired tomorrow, he'd be a first-ballot Hall of Famer.
Our $100 budget makes it impossible to target any early Trout card, including his 2011 Topps Update Rookie Card. However, his 2013 Topps base card with the gold Rookie Cup is a cost-effective alternative for the sake of this collection.
Buy on: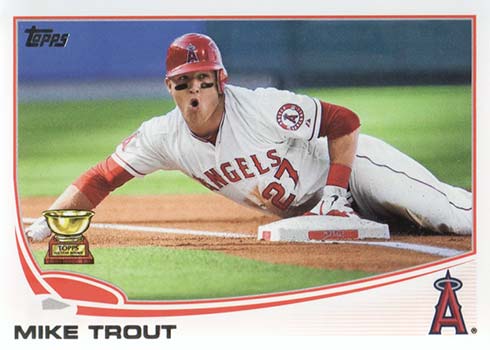 2020 Donruss Optic #62 Luis Robert RC ($12)
Luis Robert checks all the boxes to be baseball's next superstar in center field. The 24-year-old was slowed by injuries last year, but he still hit .338/.378/.567 with 36 extra-base hits and 3.6 WAR in only 68 games.
The headlining rookie in 2020 products, he has 62 different Rookie Cards in total in the Beckett database. His Topps flagship rookie fits the budget here, but I've opted instead for his Donruss Optic rookie with the "Rated Rookie" logo.
Buy on: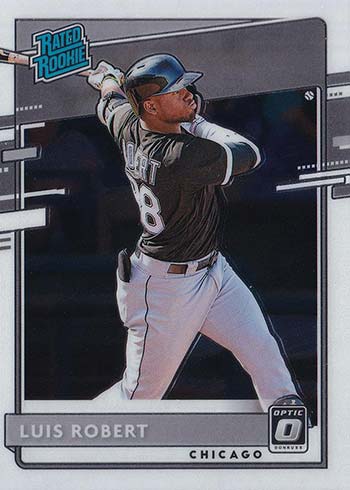 Total: $87.50