The $100 Catcher Baseball Card Starter Pack – One-Sheet Collections
For many, nostalgia remains the driving force behind baseball card collecting, and that's how we arrived at the idea of One-Sheet Collections.
It's a simple concept with infinite possibilities.
Take a single nine-pocket sheet and a reasonable $100 budget, and build a nine-card collection with a unifying theme.
This time around, I'm doing something a bit different with our theme and focusing on a specific position. The idea here was to build a nine-card "starter pack" to serve as a foundation for a collection specific to the catcher position.
What nine cards focusing solely on the catcher position would you buy with a $100 budget?
Here's what I picked:
1991 Bowman #587 Javy Lopez RC ($3)
This is the only Rookie Card of one of the most popular catchers of the 1990s. Lopez was a core piece for the Atlanta Braves teams that reached the postseason year-in, year-out throughout the decade. Lopez earned three All-Star selections and slugged 214 home runs in his 12 seasons with the team.
In 1992, Bowman was his only baseball card appearance once again, then in a wide variety of products in 1993, including the Topps flagship set and a "Rated Rookie" card in the Donruss release.
Buy on: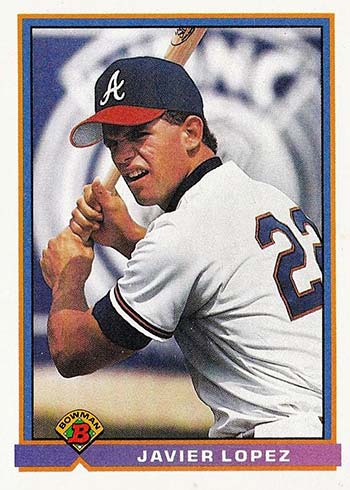 1991 Topps Traded #101T Ivan Rodriguez RC ($3)
Rodriguez was a 14-time All-Star and 13-time Gold Glove winner over the course of his 21-year career, and was a first-ballot Hall of Fame selection in 2017.
He has seven different Rookie Cards to choose from, all of which are part of Update/Traded sets aside from his 1991 Bowman rookie. The others on the list are Donruss Rookies, Fleer Update, Score Rookie/Traded, Ultra Update and Upper Deck Final Edition.
Buy on: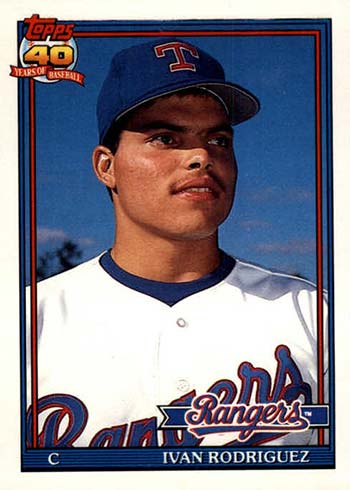 1992 Donruss Rookies Phenoms #BC9 Mike Piazza ($15)
Piazza only has two true Rookie Cards, and his 1992 Bowman ($50) and 1992 Fleer Update ($80) cards are out of our price range for this exercise.
However, there was a third Piazza card released in 1992 as an insert in the Donruss Rookies set. The 20-card Phenoms also includes Tim Salmon, Kenny Lofton, Eric Karros, Moises Alou, Bret Boone and Ryan Klesko.
Alternatively, the 1993 Donruss "Rated Rookies" card is another good place holder for Piazza until one of his true Rookie Cards fits the budget.
Buy on: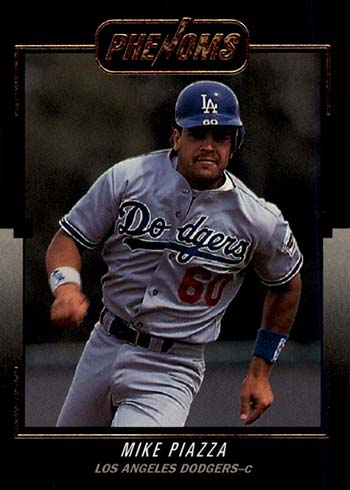 1992 Topps Traded #123T Jason Varitek USA RC ($12)
Varitek was a three-time All-Star and the captain of the Boston Red Sox teams that won World Series titles in 2003 and 2007. He came to the Red Sox at the 1997 trade deadline alone with Derek Lowe in exchange for Heathcliff Slocumb in one of the most lopsided trades in MLB history.
He did not make his MLB debut until 1997, and he didn't appear in base products until 1998, but his Rookie Card is in the 1992 Topps Traded set when he was playing for Team USA. The set also includes the only Rookie Card of future teammate Nomar Garciaparra.
Buy on: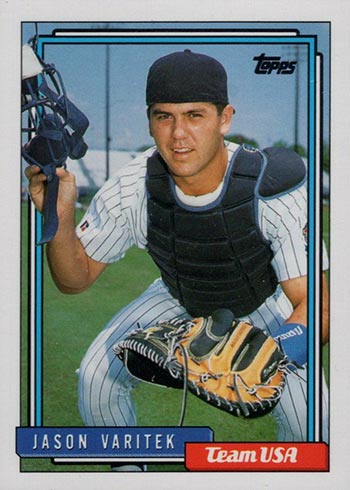 1994 Bowman #38 Jorge Posada RC ($12)
A 24th round pick in the 1990 draft, Posada earned a spot in the 1994 Bowman set after he hit .260/.364/.448 with 27 doubles, 17 home runs and 61 RBI in 125 games between High-A and Double-A in the Yankees system.
He saw his first MLB action in 1995 and spent the entirety of his 17-year career with the Yankees, tallying 275 home runs, 1,065 RBI and 42.7 WAR while earning five All-Star selections and winning four World Series rings.
Posada's only other Rookie Card is in the accompanying 1994 Bowman's Best set.
Buy on: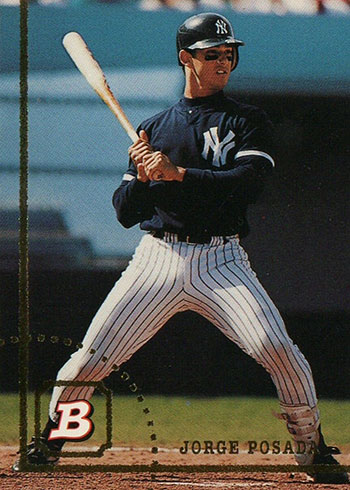 2002 Topps #622 Joe Mauer RC ($12)
Despite spending the final five years of his career playing first base, Mauer was at his best during his time behind the plate in Minnesota. He won the AL batting title in 2006 (.347), 2008 (.328) and 2009 (.365), and took home AL MVP honors in '09 with a 171 OPS+ and 7.8 WAR for a division-winning Twins team.
The No. 1 overall pick in the 2001 draft after a standout high school career where he was also a highly-regarded football recruit, Mauer has 12 different Rookie Cards with a variety of different price points from Bowman Heritage ($8) to a Bowman Chrome autograph ($200).
Buy on: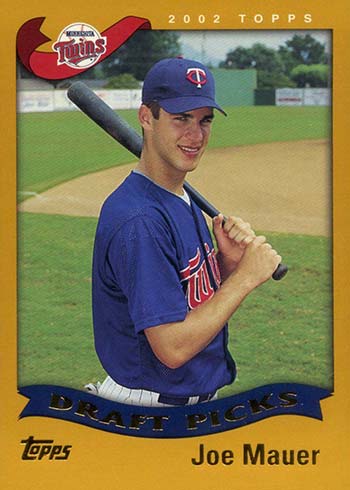 2004 Topps Total #786 Yadier Molina RC ($20)
Back for at least one more year after signing a one-year, $10 million deal in August, Molina has been the defensive gold standard throughout his 18 seasons with the St. Louis Cardinals. In his prime, he was also an impact offensive player.
Selected in the fourth round of the 2000 draft out of Puerto Rico, Molina debuted in 2004 as the backup to Mike Matheny and took over as the team's everyday catcher the following year.
His 22 different Rookie Cards all come in at $20 or more, with his Bowman base ($40), Topps flagship ($80), Bowman Chrome ($80) and Topps Chrome ($200) all impossible to fit into our $100 budget.
Buy on: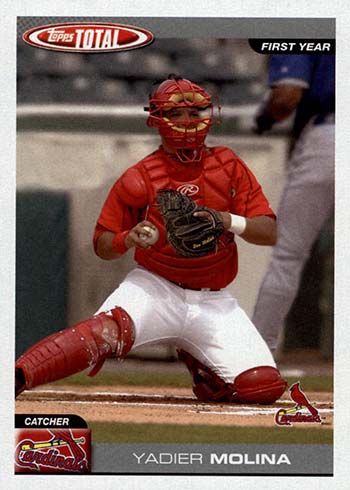 2010 Bowman #208 Buster Posey RC ($10)
Posey went No. 5 overall in the 2008 draft after a storied career at Florida State, and he made his MLB debut as a September call-up the following year. His seven game cup-of-coffee was enough to earn him a spot in a wide variety of 2010 products, and he has 13 total Rookie Cards in his database.
The recently retired future Hall of Famer has an affordable Topps flagship rookie ($25) and his Topps Heritage rookie ($25) is my pick for his best looking Rookie Card, but the budget friendly Bowman base rookie fits nicely into the financial parameters of this collection.
Buy on: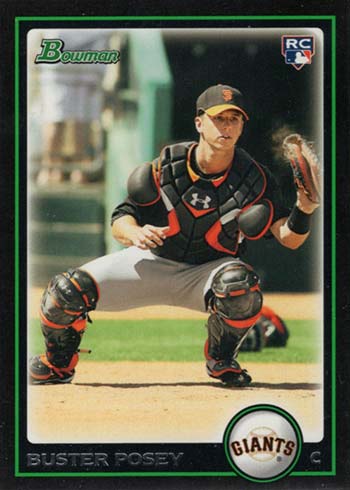 2011 Bowman Draft #12 Salvador Perez RC ($12)
Bowman beat everyone else to the punch on Perez, including him in the 2011 Bowman Draft, Bowman Chrome Draft, and Bowman Sterling products, which stand as his only three true Rookie Cards.
He debuted that year and hit .331 with 13 extra-base hits in 158 plate appearances to announce himself as a budding star. With seven All-Star selections, five Gold Glove Awards and four Silver Sluggers on his resume, along with a World Series title in 2015, he is undoubtedly one of the top backstops of the current generation.
Buy on: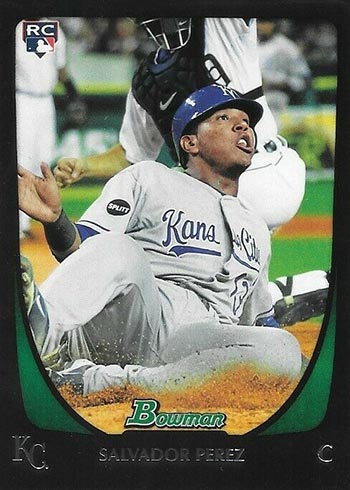 Total: $99