The $100 3rd Baseman Baseball Card Starter Kit – One-Sheet Collections
For many, nostalgia remains the driving force behind baseball card collecting, and that's how I arrived at the idea of One-Sheet Collections.
It's a simple concept with infinite possibilities.
Take a single nine-pocket sheet and a reasonable $100 budget, and build a nine-card collection with a unifying theme.
Continuing on with our recent theme, I'm once again focusing on a specific position and building a nine-card "starter pack" that can serve as a foundation for a collection specific to one spot on the field.
I've already done the catchers, first basemen and second basemen. Now it's time for the third basemen. What nine cards focusing solely on the third base position would you buy with a $100 budget?
Here's what I picked:
1983 Donruss #586 Wade Boggs RC ($20)
Wade Boggs won five AL batting titles in the 1980s and finished his Hall of Fame career with 3,010 hits in 18 seasons. His .328 career average ranks 39th on the all-time list, and second only to Tony Gwynn (.338) among players who began their career after 1940.
He shares the 1983 Rookie Card spotlight with Gwynn and Ryne Sandberg, and all three players were featured in the Donruss, Fleer and Topps base sets. His 1983 Topps rookie carries a slightly higher price tag ($30), and the 1983 Donruss is the best looking shot of the bunch.
Buy on: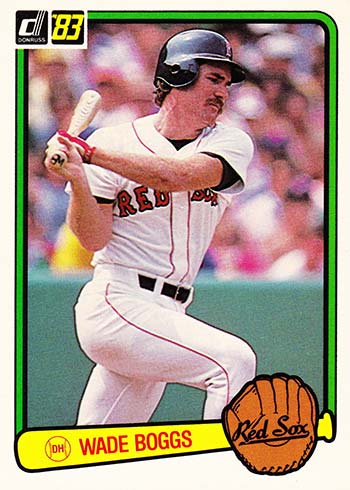 1988 Donruss #308 Ken Caminiti RC ($2)
A three-time All-Star and three-time Gold Glove winner, Ken Caminiti won NL MVP honors in 1996 when he hit .326/.408/.621 with 40 home runs and 130 RBI. Two years later, he helped lead the San Diego Padres to the NL pennant.
After a 63-game debut in 1987, his Rookie Card was featured in the 1988 Donruss, Fleer, Score and Topps sets. He is one of the bigger names in a down year for RCs that was led by Roberto Alomar, Tom Glavine and Mark Grace.
Buy on: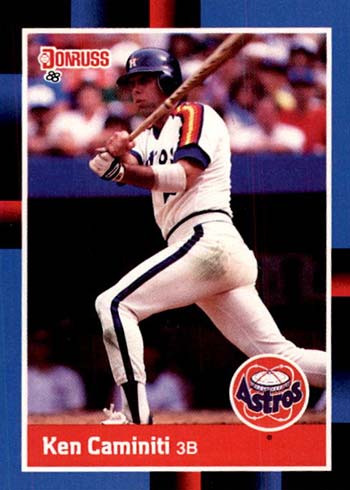 1991 Bowman #569 Chipper Jones RC ($12)
One of the greatest switch-hitters in MLB history, Jones batted .303/.401/.529 with 2,726 hits, 468 home runs and 1,623 RBI over the course of a 19-year career spent entirely with the Atlanta Braves. His 85.3 WAR ranks sixth all-time among third basemen.
Jones was the No. 1 overall pick in the 1990 draft, and his Rookie Cards were featured in a variety of 1991 products. He has four in total, spanning the Bowman, Score, Topps and Upper Deck base sets. The Topps ($15) is the most valuable, but the Bowman shot is a classic.
Buy on: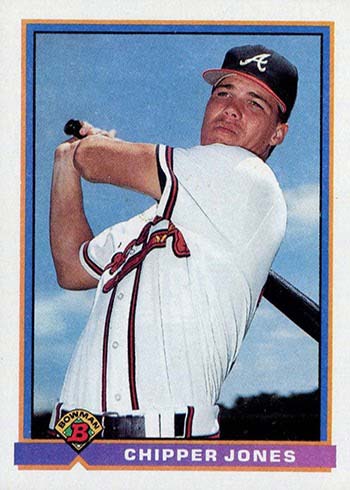 1995 Bowman #271 Scott Rolen FOIL RC ($12)
With another step forward to 63.2 percent of the vote in his fifth year on the Hall of Fame ballot, it seems like only a matter of time before Scott Rolen punches his ticket to Cooperstown. A seven-time All-Star and eight-time Gold Glove winner, he posted a 122 OPS+ with 316 home runs and 1,287 RBI in 17 seasons.
His only Rookie Cards are in the 1995 Bowman and 1995 Bowman's Best sets, while his first Topps flagship card came the following year on a shared prospect card with Scott Spiezio and two others.
Buy on: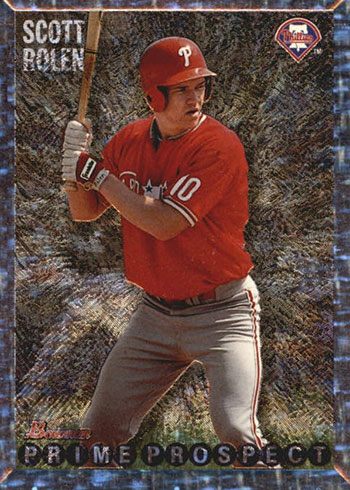 1997 Bowman #194 Adrian Beltre RC ($25)
With 3,166 hits, 477 home runs, 1,707 RBI and 93.5 WAR in 21 seasons, Adrian Beltre is a likely shoo-in for the Hall of Fame once he hits the ballot for the first time in 2024. He made his MLB debut shortly after his 19th birthday and was still going strong in his age-39 season when he wrapped up his career.
His three Rookie Cards are all part of 1997 Bowman products, with the Bowman's Best ($30) card and Bowman Chrome ($60) both checking in with a slightly higher value. His first Topps card was in the 1998 base set on a prospects card with Aaron Boone and Ryan Minor.
Buy on: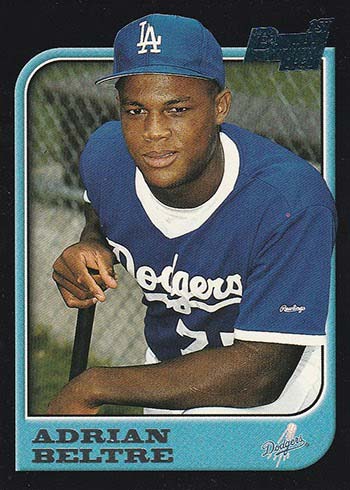 2002 Bowman #381 David Wright RC ($10)
David Wright was one of the faces of baseball during his prime, earning seven All-Star selections while hitting .296/.376/.491 with a 133 OPS+ and 49.2 WAR. Unfortunately, injuries limited him to just 77 games after his age-31 season.
He has six different Rookie Cards, with his 2002 Bowman, Bowman Heritage, Topps Pristine and Topps Total base cards joined by an autographed Bowman Chrome card ($80) and a Bowman's Best memorabilia card ($15).
Buy on: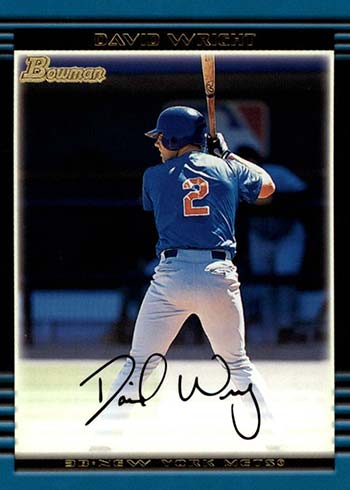 2013 Bowman Draft #41 Nolan Arenado RC ($8)
A second-round pick in the 2009 draft, Nolan Arenado made his MLB debut in 2013 when he won a Gold Glove and finished seventh in NL Rookie of the Year voting. The 30-year-old has gone on to win nine straight Gold Gloves, and he has a 121 OPS+ with 269 home runs, 865 RBI and 44.3 WAR in nine seasons.
His 1st Bowman card is in the 2010 Bowman/Bowman Chrome Prospects sets, while his Rookie Cards are in 2013 products. He has 13 different Rookie Cards in total, with his Topps Chrome Update and Topps Triple Threads cards being the most sought after of the bunch.
Buy on: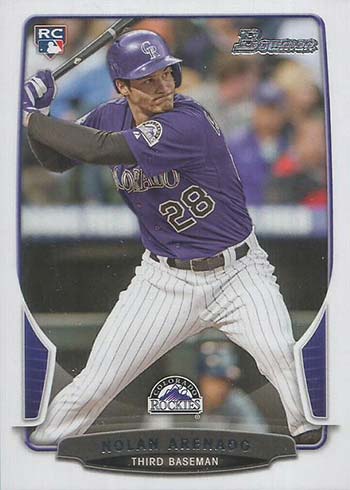 2014 Bowman #176 Jose Ramirez RC ($5)
Jose Ramirez has finished in the top six in AL MVP voting four of the past five years. His 26.7 WAR during that stretch trails only Mookie Betts (32.0) and Mike Trout (28.4) among all position players, and he will still be just 29 years old for the bulk of the 2022 campaign.
He has 10 different Rookie Cards and all of them are reasonably priced relative to his star-caliber production. That could change if he is traded to a major market team in the coming years, but for now, he's a steal.
Buy on: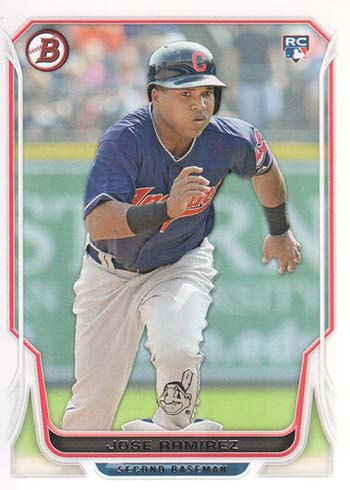 2018 Topps #18 Rafael Devers RC ($5)
A top prospect throughout his time in the Boston Red Sox farm system, Rafael Devers enjoyed a breakout season in 2019 (132 OPS+, 32 HR, 115 RBI). The 25-year-old built off that performance with more of the same in 2021 (132 OPS+, 38 HR, 113 RBI) while earning his first All-Star selection and winning Silver Slugger honors.
With more than 50 different Rookie Cards to choose from, there is no shortage of options. Most of them are still reasonably priced relative to his status as one of the game's rising young stars playing in the Boston market.
Buy on: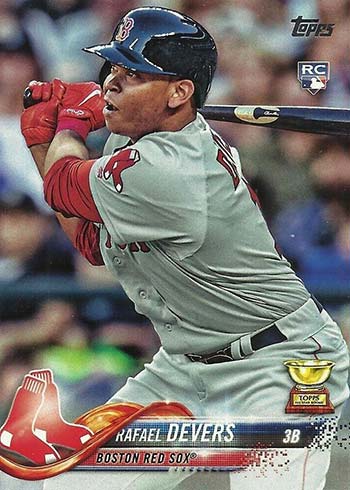 Total: $99.00