Ten NHL trades and their hobby impact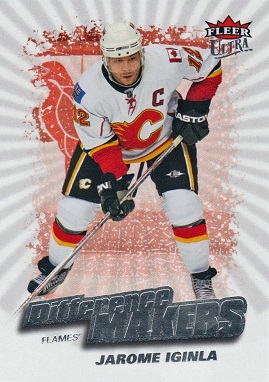 By Jon Waldman | Contributing Editor
Wednesday was an unofficial holiday for hockey fans, as the NHL Trade Deadline Day was finally upon us.
Yes, the day was as eventful as we expected. Names of all rankings switched sweaters, with just as many surprises on D-Day as there were leading up to the moment where rosters freeze for the remainder of the NHL season.
Of course, trading is nothing new in hockey cards. Hundreds of swaps go down every day in our hobby, with no deadline to ever worry about (well, except maybe when the postal services raise their rates each year); and yet when a player does change teams in the big leagues, regardless of player loyalties, there is movement that either starts or stops at times.
Bearing this in mind, we're counting down the top 10 trades that happened in the last couple weeks, starting off with the one that put a dagger through the hearts of Flames fans.
To the Pittsburgh Penguins: Jarome Iginla
To the Calgary Flames: Kenneth Agostino, Ben Hanowski, 1st round pick (2013)
And The Winner Is … Pittsburgh inherits a player on a mission to win the Stanley Cup. Last time we had this kind of determination with a team working towards a singular goal for one person, Ray Bourque held aloft Lord Stanley's mug.
Hobby Impact: Flames fans are (pardon the pun) putting on fire sales now of their former hero, but just about everywhere else collectors are either staying on board with Iggy or jumping on his bandwagon in anticipation of dual team memorabilia and signature cards with Sidney Crosby.
To the Washington Capitals: Martin Erat, Michael Latta
To the Nashville Predators: Filip Forsberg
And The Winner Is … Washington, at least in the short term. Erat has been vastly underrated throughout his career, a victim of the low media exposure in Tennessee.
Hobby Impact: Forsberg had a lot of hype on Draft day in 2012. Nashville has never been a hotbed for players, but perhaps Forsberg will be the exception to the rule.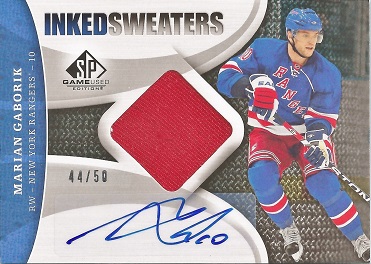 To the Columbus Blue Jackets: Marian Gaborik
To the New York Rangers: Derek Dorsett, John Moore, Derick Brassard, 6th round pick (2013)
And The Winner Is … New York. Yes, that might sound strange given what they've parted with, but Gaborik just wasn't getting the job done and they've now freed up a lot of cap space.
bGaborik has kept a fairly loyal following from his time in Minnesota and Columbus has had its share of hobby stars. Don't expect Gaborik collectors to fold up tent easily.
To the Philadelphia Flyers: Steve Mason
To the Columbus Blue Jackets: Michael Leighton, 3rd round pick (2015)
And The Winner Is … Philadelphia. Let's face it. Leighton had one solid run and hasn't done much since. Mason will have the chance now to regain the promise he showed as a rookie.
Hobby Impact: If Mason is successful in Philly, he will very easily regain some hobby love he lost over the last couple years.
To the Tampa Bay Lightning: Ben Bishop
To the Ottawa Senators: Cory Conacher, 4th round pick (2013)
And The Winner Is … let's call this one a split decision. Bishop now becomes a spotlighted player, while the Sens get one of the top rookies.
Hobby Impact: Conacher's rookies are delayed by a year thanks to the Rookie Card ruling. It will be interesting to see if companies will only produce Sens cards or cards with him on both teams.
To the Boston Bruins: Jaromir Jagr
To the Dallas Stars: Lane McDermid, Cody Payne, Conditional 2nd round pick
And The Winner Is … Boston. While Jagr may have one season left after this one closes, he still has some fire left in his stick. He could end up being integral to a Bruin Stanley Cup run.
Hobby Impact: Jagr collectors are longtimers so their loyalty is intact. There may be some curiosity interest now in the very limited number of Stars cards, especially any autographs.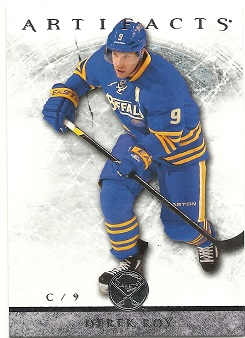 To the Vancouver Canucks: Derek Roy
To the Dallas Stars: Kevin Connauton, 2nd round pick (2013)
And The Winner Is … Vancouver gets the type of player who can make an impact immediately and help push them to the Cup.
Hobby Impact: Roy has always had pockets of collectors, but if he can stay on with the Canucks he has the potential to be a fan favorite out west, which means big hobby attention.
To the St. Louis Blues: Jay Bouwmeester
To the Calgary Flames: Conditional 1st round pick (2013), Mark Cundari, Reto Berra
And The Winner Is … Calgary. The real story here is that Calgary has another pick in the first round of an incredibly deep draft. Bouwmeester is dependable yes, but has not lived up to his potential.
Hobby Impact: Upper Deck will have more players to choose from when it puts its Team Canada cards together in 2013-14. St. Louis is not going to the playoffs if the albatross that is J-Bo holds true to form.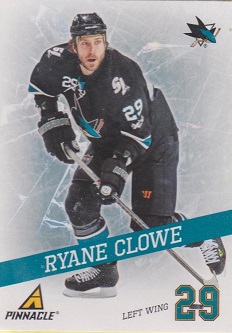 To the New York Rangers: Ryan Clowe
To the San Jose Sharks: 2nd round pick (2013), 3rd round pick (2013), Conditional 2nd round pick (2014)
And The Winner Is … New York gets a player who is just itching to break out. That was hard to do when you're overshadowed by Joe Thornton and Patrick Marleau. In New York, there will be more centre stage to occupy.
Hobby Impact: Up until now, Clowe has largely been ignored by collectors. That's not going to much last longer. If the Rangers do make the playoffs this year, it will be because of Clowe.
To the Buffalo Sabres: Matt Hackett, Johan Larsson, 1st round pick (2013), 2nd round pick (2014)
To the Minnesota Wild: Jason Pominville, 4th round pick (2014)
And The Winner Is … Buffalo got a steal in this one. Pominville is a model of consistency (six straight years of at least 20 goals and 50 points) and has great leadership, but the Sabres are getting three hot prospects including a pick.
Hobby Impact: There were rumours that Ryan Miller was on the trading block earlier, and he could still go at the Entry Draft. If he does, then Hackett will get his chance to shine, and in the hobby that could mean big dollars.