Ten NFL rookies to watch in 2012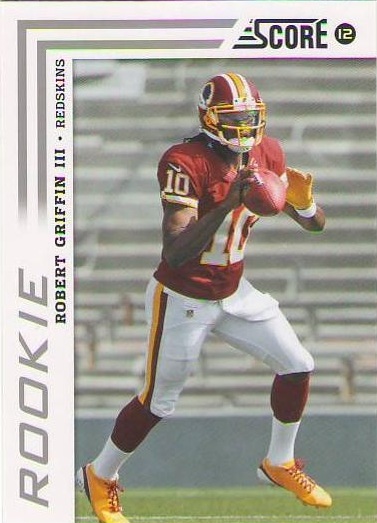 By Susan Lulgjuraj | Beckett Football Editor
The NFL season starts tonight.
Finally.
The New York Giants and the Dallas Cowboys kickoff the 2012 season, but not on cardboard. That has been raging for months with a deep rookie class, especially at the top.
There are many rookies this year who will have significant roles not just Andrew Luck and Robert Griffin III. Here's a list of some of the 2012 rookies to watch.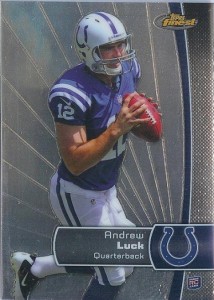 Andrew Luck, Indianapolis Colts – Luck, of course, is the prince of the collecting world. He was the top overall draft pick and is expected to lead the Colts in a similar fashion as Peyton Manning did. But is Luck ready for Prime Time? He had a solid preseason and even threw for a touchdown on his first pass. If you haven't already invested in Luck cards, this might not be the time either. His cards are going for astronomical amounts of money.
Robert Griffin III, Washington Redskins – Do the Redskins finally have a franchise quarterback? That's the hope when Washington took the 2011 Heisman Award winner second in the draft. Griffin is a dual threat quarterback. He can throw and run. In his senior year at Baylor, he threw for 4,293 yards and 37 touchdowns. He also rushed for 699 yards and 10 touchdowns. He's right there with Luck when it comes to buying his cards. Expect to shell out a lot of money on the secondary market if he's your guy.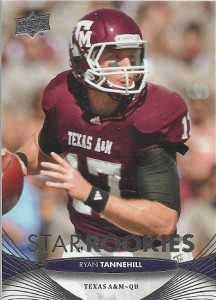 Ryan Tannehill, Miami Dolphins – Tannehill was named the starter of the Dolphins this preseason. Another rookie quarterback. While his cards have seen a slight uptake in value since the announcement, he's not on the level of Luck and RG3. Collectors are likely waiting to see what Tannehill will be able to do with Miami, who hasn't had a steady quarterback since Dan Marino.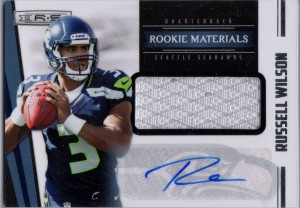 Russell Wilson, Seattle Seahawks – Wilson had an interesting college career having played for NC State and Wisconsin – and throw a little minor league baseball into the mix. He's an athlete that can handle himself well on the field. He's also leading a team that was a 7-9 last year. Many feel Wilson is the kind of player that put Seattle over the top. For collectors, his cards have entered that crazy stratosphere of highly valued cards. There are new Wilson collectors popping up every day.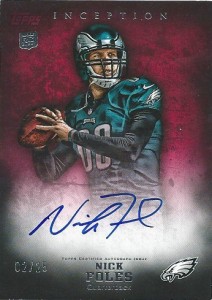 Nick Foles, Philadelphia Eagles – Foles isn't a starter – yet. It's seemingly only a matter of time until he gets to play under center. Michael Vick gets more often than many players it seems due to his ability to run the ball, and probably not slide well. If collectors think Foles has a shot to do something in Philadelphia, this is a player to consider investing in. His autograph cards aren't selling too crazily just yet.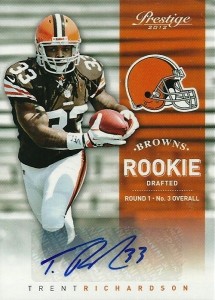 Trent Richardson, Cleveland Browns – The biggest pitfall for the third pick of the draft is his location. The running back is playing for a team that hasn't made the playoffs in a decade. Other than that, his biggest issue is the health of his knees. Richardson rushed for 1,679 yards and 21 touchdowns at Alabama his junior year. He's already one of these players that's high on collectors' lists.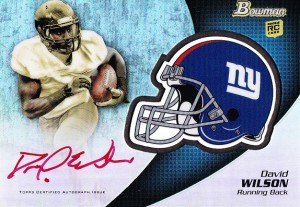 David Wilson, New York Giants – In Wilson's first season as the starting running back for Virginia Tech, he rushed for 1,709 yards. The Giants hope he could bring some of that power as he contends with Ahmad Bradshaw at running back. Even though he's not guaranteed to start for New York, Wilson's cards have been selling moderately well.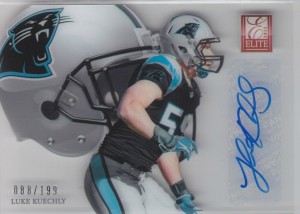 Luke Kuechly, Carolina Panthers – Kuechly is flying under the radar with many collectors this year. Part of the problem is the vast amount of high-end rookies out there. Also, he plays defense, which never seems to get much love in the hobby. However, Kuechly is an athletic linebacker with power and presence.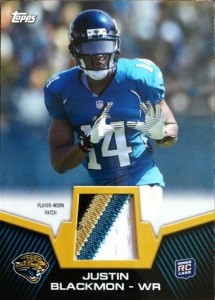 Justin Blackmon, Jacksonville Jaguars – He's not collectors' favorite to collect, but he's up there on the list. Blackmon was picked fifth in 2012 NFL Draft. He finished the 2011 regular season at Oklahoma State with 1,522 catching yards and 18 touchdowns on 121 catches. Collectors can get of him at good prices many low-numbered cards and autographs.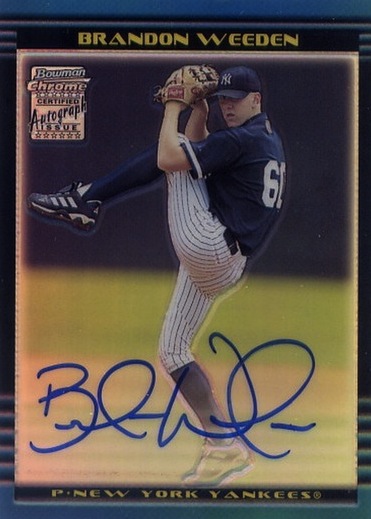 Brandon Weeden, Cleveland Browns – He's a rookie in name as he was drafted out of Oklahoma State in the first round by the Browns in 2012, but Weeden is 28 years old. He began his professional career as a baseball player in the New York Yankees organization, and was part of the 2003 trade for Kevin Brown. In 2011, the quarterback threw for a school record 4,727 yards.
Susan Lulgjuraj is the editor of Beckett Football magazine. You can email Susan here with ideas, comments and questions. Follow her on Twitter here.