Teemu Selanne has collected mementos throughout his storied career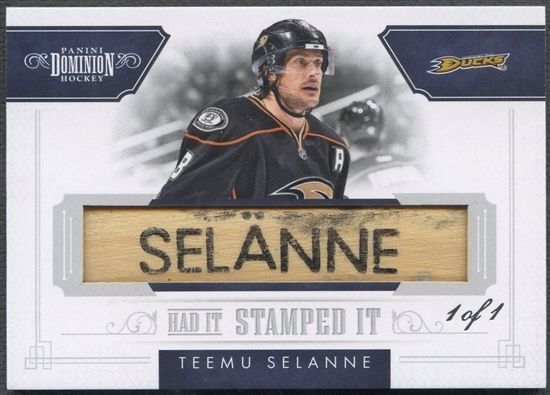 By Jon Waldman | Contributor
The media's summer ritual of the "Teemu Selanne Retirement Watch" might finally be over.
Two decades after he took the NHL by storm in a record-breaking rookie season, the Finnish Flash is hanging up his skates.
It took a video pronouncement from Selanne to affirm that. After 20-plus seasons in the NHL, his storied career would be coming to an end. However, even that video, which caught on with fans across the globe, wasn't enough to convince everyone that Selanne would step off the ice for the last time in 2014.
"I still don't think it's his last game here," said countryman Olli Jokinen in the days leading up to Selanne's last game in Winnipeg on October 6, 2013. "It's not official before it's official. He's an amazing athlete, playing this level for that long. He's the guy every young player can learn from."
The scene in Winnipeg leading up to that game was monumental. Selanne was greeted at the airport by fans and autograph seekers. On game day, Winnipeg Jets management set up a rare pre-game media conference.
The game itself saw Selanne cheered loudly each time he touched the puck and he was named the first star. Following the contest, Selanne again congregated outside the Ducks locker room for a dearth of reporters to get that all-important quote.
"This place has been so special, I'm very thankful that I had the chance to say goodbye as a hockey player," Selanne said.
The scope of the season as a whole isn't lost on Selanne either. While he's always kept mementos throughout his NHL career (as well as the Finnish Elite League with Jokerit and an Olympic career where he is the all-time points leader), he is paying more attention to his souvenir collection as he travels down the road to retirement.
"I've always tried to keep something, and obviously when you look back some day, you want to have memories and different items," Selanne said. "When you know it's your last season, you see everything differently – you try to enjoy it and keep everything that you can."
Hall of Fame credentials
As a member of the first iteration of the Jets, Selanne broke out as the first superstar for Winnipeg fans since Dale Hawerchuk in 1990.
Selanne had an unheard of 76 goals and 132 points as a rookie. Up until his departure amidst the 1995-96 final season of the Jets, he was the hero of the franchise.
The lasting effect of Winnipeg collectors cannot be understated in Selanne's popularity. Collector Jeremy Lee still picks up Selanne cards.
"I still collect Selanne because of the memories I have from watching him in his first few NHL seasons as a Jet," said Lee, who owns Hobby Insider. "He started his career as a class act and continues to still be one today. It is because of my respect for him as a player and as a man that I still collect his cards."
But Selanne's career was not just defined by those early seasons. Once in Anaheim, he paired with Paul Kariya in one of the most lethal combinations of the latter half of the 90s. Together, Selanne and Kariya tore apart the NHL and were constant postseason award winners or contenders.
During this period, Selanne was still a familiar face in insert series and limited-checklist products. He was undoubtedly a face of the league, as demonstrated time to time when he would be grace the cover of card products.
What lacked for Selanne and Kariya, however, was a solid supporting cast. The then-Mighty Ducks did not live up to their name and would ultimately send Selanne to San Jose during the 2000-01 season. A largely forgettable run later, Selanne found himself in Colorado, reunited with Kariya, for the 2003-04 campaign.
By this time the skeptics were mounting. Yes, Selanne was still a popular figure, but many felt his retirement was imminent.
Enter the 2004-05 lockout.
The year away from hockey may very well have saved Selanne's career. Having undergone knee surgery the prior season, Selanne was able to fully mend and came back with a vengeance. He reached 90 points in the 2005-06 campaign, winning the Bill Masterton Trophy in the process.
One year later, he won the Stanley Cup with the freshly re-christened Anaheim Ducks.
In the subsequent years Selanne has continued to defy age, and is the oldest active player in the league at 43. While he's only played one full season since that Stanley Cup campaign, he has maintained nearly a point-per-game pace for all but the lockout shortened 2012-13 year. His point totals prior to this season stood north of the 670 goals and 1,400-point mark.
On the collector side, Selanne is one of the most in-demand players on trade lists, with plenty of options to choose from. Between North American series and European issues, Selanne has over 3,800 pieces indexed by Beckett. There may be no better example of his popularity than his appearances in In The Game products, which without a license pursues players individually.
"Selanne has long been one of the most popular players in the hobby and historically, his cards have always been in demand among North American and European collectors," said Stephen Laroche, ITG's brand manager. "A few years ago, In The Game had the opportunity to add him to our lineup and he has been a part of many products since that time. With each passing season, he has continued to build on an amazing legacy and he will certainly be a Hall of Fame member once he is eligible."
It is in that international tease where Selanne's popularity is perhaps most poignant. While many players will have pockets of hobbyists in one city or a country, few have had the impact in multiple markets that Selanne has. As a result, three particular markets are "Teemu Country".
"Selanne has a global appeal among collectors and it is difficult to say where the balance of his collectors hail from," Laroche said. "While collectors in Winnipeg and Anaheim are certainly loyal to him, the collector base in Finland is extremely devoted to collecting his cards along with most other players from that country."
With the devoted following in these and other regions, there's no question that Selanne will remain a major name in the hobby, long after he retires.
Whenever that will really be.