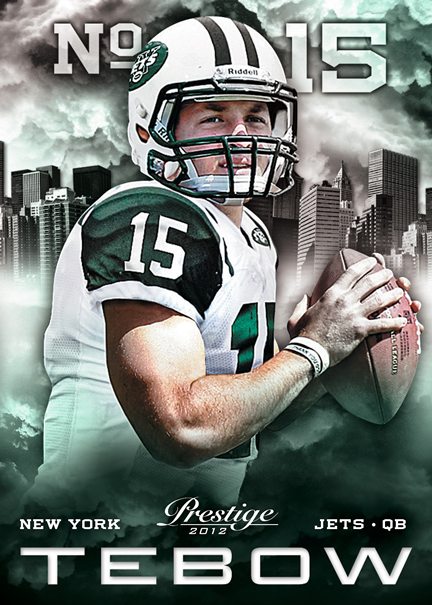 By Andrew Tolentino | Football Editor
You're going to want to take a knee when ripping certain packs of 2012 Prestige Football this year.
Yesterday, Panini America touted a Tim Tebow insert set slated to arrive in late June with the company's popular preseason brand. Let's take a look.
Without question, Tebow has been the centerpiece of  many a football conversation across the country, maybe even the globe. In fact, on a recent trip to Paris I saw that this guy named Rodin made a beautiful sculpture in his likeness.
Thinking of past, present and future, Panini assembled the 15-card set with one thing in mind. The epic path of Tim Tebow. Each card is numbered to 1,500 or less and offers a nugget from his journey to the Jets. Card backs deliver details from as far back as his Pop Warner days and span toward his current clout in the NFL. Front aesthetics feature Panini's take on how big of a name he's been since he landed in the hobby.
The apparently movie-poster-inspired art showcases our hero throwing, rushing, and generally looking awesome in front of Colorado's massive mountains and before a green-tinted New York skyline. All in all, an appropriately dramatic tone for one of football's most fascinating phenoms.
After Prestige hits shelves on June 20, we'll find out if the insert epic is epic enough to chase. But until then, take a look at tell us what you think.