Targeting Julian Edelman Cards – Beckett Pricing Insider
This edition of the Beckett Pricing Insider is brought to you by GTS Distribution. Watch Go GTS Live – The Hobby's Web Show, every Thursday at 9 PM EST.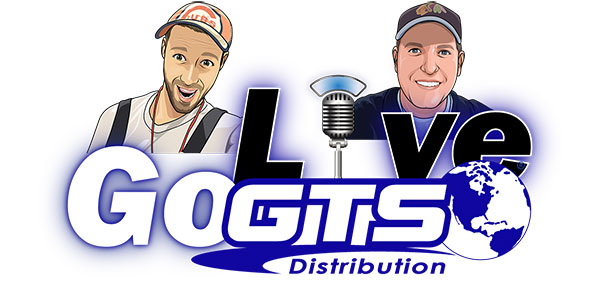 The Super Bowl has come and gone. There was plenty of defense but not much in the way of exciting offense. I made the joke to my wife that if the Rams win, they would have to make the punter the MVP for the first time. It was good enough for a pity laugh from her but at that point, there was some truth to it. In the end, New England won and there was one offensive player that made the most of the big stage was Julian Edelman, the actual Super Bowl MVP.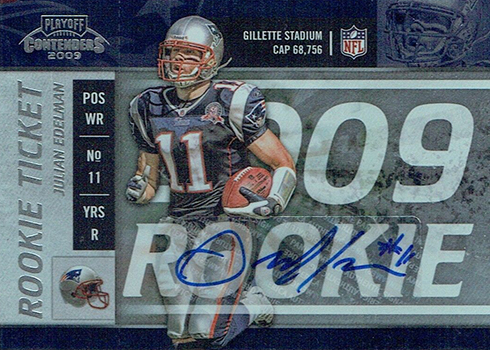 He had ten catches for 141 yards. While he didn't score a touchdown, he made the most of every catch he got. Edelman weaved through the defense on several plays to get more yardage after the catch. There was never a doubt that he would win the MVP honors when the game was over.
On the season, Julian Edelman had 74 catches for 850 yards and six touchdowns. He led the Patriots in receiving yards and was second in catches for the season. Those numbers are even better considering that Edelman missed the first four games of the season due to suspension.
In 2017, Edelman missed out on the Patriots' last Super Bowl victory, missing the entire season with a torn ACL.
Edelman has long been Tom Brady's favorite target, and that is a nice position to be in as a wide receiver in the NFL. It's even better for his collectability.
Julian Edelman's rookie autograph cards have appeared on the Beckett Hot List several times over the past few years. Given his new Super Bowl MVP award, it wouldn't be shocking if he made his way on there again.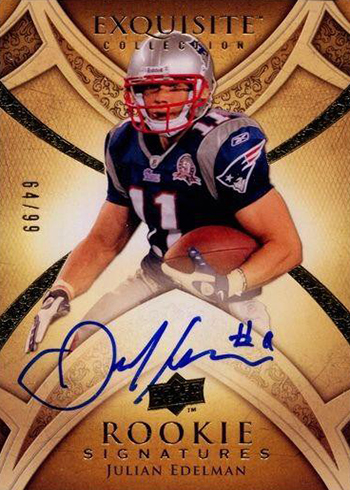 There are currently over 1,600 Julian Edelman cards in the Beckett database. His autographs are much harder to come by. Currently, he has just 25 different cards. He has four rookie autographs. Those plus their parallels consistently sell for over $100. Hopefully he will sign some more autographs soon for collectors to chase.