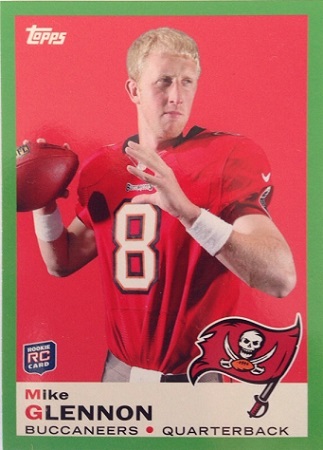 By Susan Lulgjuraj | Beckett Football Editor
Collectors will have to keep an eye on one more NFL rookie this weekend.
Tampa Bay's Mike Glennon will get the start at quarterback over Josh Freeman, NFL.com is reporting.
Glennon was a third-round draft pick by the Buccaneers from NC State. It has been suggested that Freeman should be benched and s early as Monday, Bucs head coach Greg Schiano said he was sticking with Freeman, But Freeman has completed just 45.7 percent of his passes this season with two touchdowns and three interceptions.
From a collecting standpoint, most of the quarterback focus has been on rookies Geno Smith and E.J. Manuel as they start for their respective teams. But Glennon now will take away some of the focus as he is reportedly making his first career start this weekend.
Situations like this give collectors a reason to get excited about 2013 products. It also allows investors to flip cards for a few extra dollars because this type of news usually gives cards a bump on the secondary market.
Glennon already has 654 cards, according to the Beckett Database (click here to view a full checklist of his cards). Interestingly, only two of his RCs are signed but he does have 339 autograph cards between Topps, Panini, Upper Deck, Leaf, Press Pass and SAGE.
Current Rookie Cards
2013 Bowman #128 Mike Glennon RC

2013 Certified #270 Mike Glennon RC

2013 Certified #328 Mike Glennon AU/499

2013 Elite #171 Mike Glennon/899 RC

2013 Finest #101 Mike Glennon RC

2013 Momentum #171 Mike Glennon RC

2013 Panini Prominence #171 Mike Glennon RC

2013 Prestige #271 Mike Glennon RC

2013 Rookies and Stars #170 Mike Glennon RC

2013 Rookies and Stars #227 Mike Glennon JSY

2013 Score #409 Mike Glennon RC

2013 Topps #43A Mike Glennon RC/(ball visible)

2013 Topps Inception #103 Mike Glennon AU RC

2013 Topps Platinum #114 Mike Glennon RC
Susan Lulgjuraj is an editor at Beckett Media. You can email her here with questions, comments or ideas. Follow her on Twitter here. Follow Beckett Media on Facebook and Twitter.