Tampa Bay Rays' Ginter Relics are plaid for a reason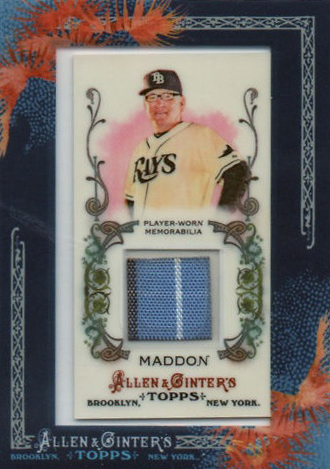 By Chris Olds | Beckett Baseball Editor | Commentary
If you've seen some of the Relics being found by collectors in 2011 Allen & Ginter from Topps, you might have been surprised.
By what?
Plaid swatches. Plaid on manager Joe Maddon. Plaid on first baseman Carlos Pena. Plaid on outfielder B.J. Upton.
These Relics come from the Rays' BRaysers from late last season, which the team wore on road trips as a way of showing their team unity. The team also wore caps with plaid bills last season and apparently the gimmick caught on elsewhere as the team played well after instituting the formal-wear.
While many of Topps' past gimmick cards have been New York-centric, it's good to see a nod to some of the unusual nuances found elsewhere in baseball and to see colorful Relic cards with ties to the game instead of plain white swatches.
Who knows? Maybe all those fans who wanted plaid last fall will want to start collecting baseball cards, too.
Chris Olds is the editor of Beckett Baseball magazine. Have a comment, question or idea? Send an email to him at colds@beckett.com. Follow him on Twitter by clicking here.