T206 Honus Wagner Sells for Record $7.25 Million
The 1909-11 T206 Honus Wagner is still the king. Goldin announced a $7.25 million private sale of the card, the most ever for a baseball card or any sports card for that matter. The price tops the $6.6 million paid for a different copy of the Wagner nearly a year ago, in August, 2021.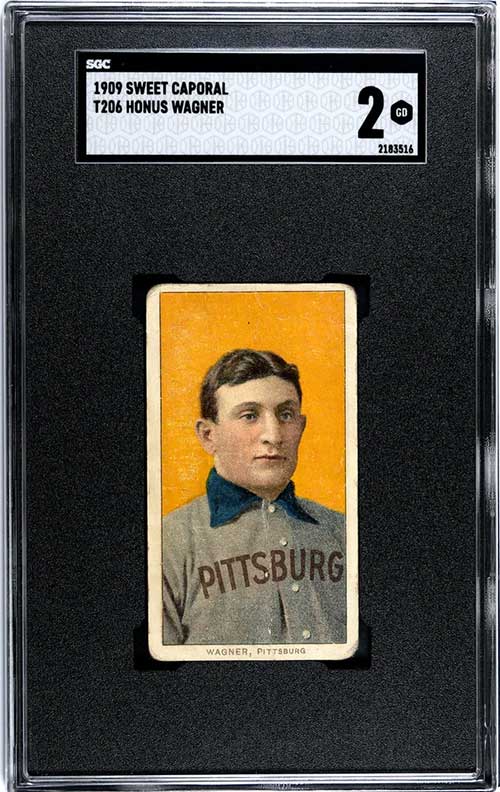 This particular copy, which has a Sweet Caporal back is graded an SGC 2 Good. That's actually lower than the copy sold in the $6.6 million sale, which was graded an SGC 3.
Both the buyer and seller remain anonymous.
The T206 has a long history as being the most important baseball card ever produced. Its story has mystery, intrigue and even some scandal.
A short print in the iconic set, it's extremely rare with less than 50 known copies in existence. Beyond being pulled from production, why it's so tough has never been confirmed. One popular theory is that Wagner wasn't a fan of his image being used to promote tobacco products. Another possible scenario is that Wagner wanted compensation.
A PSA 8 once famously owned by Wayne Gretzky, is perhaps the most infamous copy of them all. For decades, there were loud whispers that the card had been trimmed. In 2013, while pleading guilty to mail fraud charges, Bill Mastro finally admitted to it.
Arizona Diamondbacks owner Ken Kendrick has owned the Gretzky Wagner since 2007, before Mastro's revelation, when he paid almost $3 million for it.
Wagner's time as the most expensive baseball card of all-time could be short. Heritage Auctions currently has a 1952 Topps Mickey Mantle graded SGC 9.5 that closes on August 27. Bidding is already at $7,080,000 including buyer's premium.