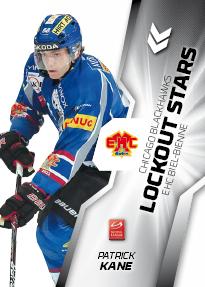 By Susan Lulgjuraj | Beckett Hockey Editor
As more and more hockey players wind up overseas because of the NHL Lockout, card companies abroad have something new to work with.
The Swiss Hockey National League has benefitted from the lockout by having NHL stars join its teams.
The league includes players such as Chicago Blackhawks Patrick Kane, New York Rangers Rick Nash, New York Islanders John Tavares and Boston Bruins Tyler Seguin.
PCAS, the Swiss Playercard Agency, will release its newest card set on Dec. 18 and will include all of the NHL players currently in the league. Many of them will appear on Lockout Stars or Playmakers inserts.
These cards will look different from what many NHL fans usually collect – much of that has to do with the bright colors the on the jerseys the teams use overseas.
Related post: Kontinental Hockey League cards will feature locked out NHL players
The base set will contain 372 cards, making for a large chase set of Swiss and international stars. Each box will have 20 seven-card packs and collectors can find at least six parallels or inserts in every box, along with printing plates.
For more information on the cards, or to order a box, visit www.playercardcollectors.ch
How many hockey collectors are going to chase cards from international leagues?
Susan Lulgjuraj is an editor of Beckett Hockey. You can email her here with questions, comments or ideas. Follow her on Twitter here.