Surprise NCAA Young Guns in Upper Deck Series 1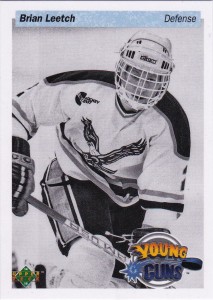 By Stephen Laroche | Beckett Hockey Editor
Collectors breaking open boxes and packs of 2014-15 Upper Deck Series 1 may have received a special and rare 1990-91 Young Guns tribute card of one of three collegiate hockey legends and the company has confirmed that they were a special unannounced addition to the product.
Since Upper Deck presently holds a Collegiate Licensing Company license along with its exclusive on NHL and NHLPA-licensed trading cards, it was only natural that the properties intersect at some point. Savvy hobbyists noticed that there were some cards in 2013-14 The Cup showing some players in their collegiate uniforms and the inclusion of these tribute cards in their flagship product has generated a small buzz.
What players were included in this rare insert set? Find out after the jump.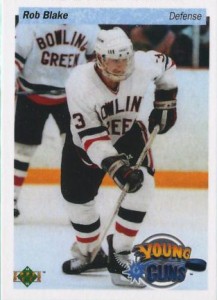 The small checklist is made up of two Hockey Hall of Fame members in defensive legends Brian Leetch and Rob Blake along with fan favorite Curtis Joseph, who some believe is worthy of the same honor.
Leetch only spent one season at the NCAA level and put up a strong 47-point effort with the Boston College Eagles in 1986-87 after being a first round selection by the New York Rangers. Soon after, he chose to join the United States National Team in preparation for the 1988 Winter Olympics in Calgary before finally taking to the ice on Broadway and becoming a hockey legend.
Blake was a member of the latest group of talent to enter the Hockey Hall of Fame and spent three seasons with Bowling Green State University. Before joining the Los Angeles Kings late in the 1989-90 season, he gave a breakout performance that saw him rack up 59 points over 42 contests and was named the Best Offensive Defenseman by the CCHA.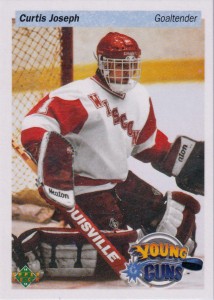 Of the three featured players, Joseph took perhaps the most unconventional route to the NCAA as the undrafted netminder debuted with the University of Wisconsin at the age of 21 in 1988-89 followinstints with the Notre Dame Hounds and Richmond Hill Dynes. In his only collegiate season, he went 21-11-5 over 38 appearances and signed with the St. Louis Blues on June 16, 1989 after earning a spot on the WCHA's All-Conference Team. Soon after, he made his pro debut and saw his first NHL action during the 1989-90 campaign.
Upper Deck's Director of Product Development, Grant Sandground, noted that while the company is not releasing specific odds for pulling one of these tribute cards, they are available in both hobby and retail packs and are tougher to find than those from the popular Day With The Cup set. He also commented on the special nature of these cards.
"There's been very few collegiate hockey cards issued, and we figured it would be a truly unique card for fans of the featured players to add to their collections as well as a great challenge for UD1 master set builders to track down," he said. "Featuring the iconic 1990-91 Young Guns design also provides a synergy with our 25th anniversary of producing hockey cards. We enjoy adding these unannounced "Easter Egg" cards to select brands on occasion to allow the collecting community to interact with one another and experience an organic sense of discovery by sharing their info with one another both at shops and online."
Stephen Laroche is the editor of Beckett Hockey and Beckett Basketball magazines. Have a comment, question or idea? Send an e-mail to him at SLaroche@beckett.com.
Follow him on Twitter @Stephen_Laroche.