Superheroes Fly High at NYCC19
Potterheads, Otaku, Batmaniacs, Shellheads, Trekkies, Whovians, Walker Stalkers, Hornheads, Star Warriors, Cosplayers, and just about every other kind of comics/sci-fi/horror fan attended this year's New York Comic Con, held October 3 through 6 in the city's mammoth Jacob Javits Center and in other large venues around town. The festival, which has been held annually since 2006, included something for everyone, with exhibitors hawking collectables of ever stripe, from comics and toys to T-shirts and yes, even trading cards.
One vendor in the main showroom was observed with a large selection of sealed non-sport packs of various titles representing sets from the 1970s to the present. A small smattering of vintage 1960s sets and singles could be discovered around the room with diligent searching.
Current card producers, Topps and Cryptozoic, had impressive displays of their own. A number of show-exclusive promo cards could be found on specific days and in various locations.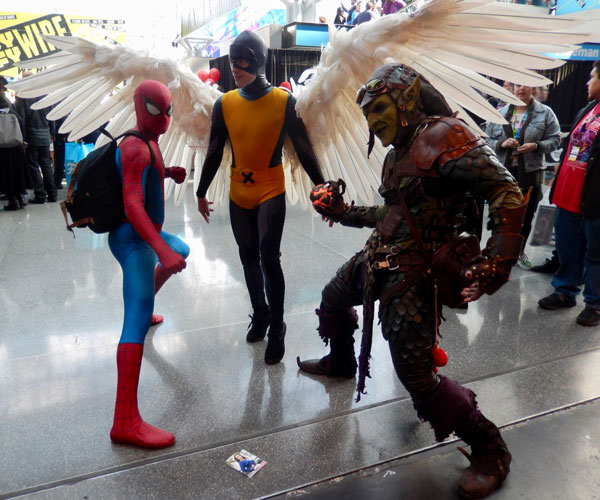 Photo ops and autograph signings from top shelf celebrity guests like Tom Hiddleston, Paul Rudd, Nichelle Nichols, Paul Reubens, Billy Dee Williams, and many others proved to be a primary draw. The huge Artist Alley section of the show allowed comic and trading card artists to display and sell their wares to eager hobbyists.
An increasingly popular facet of the show is the panels and screenings. Attendees were treated to diverse panels in various locations over the four day event. Examples include panels for the cast of The Purge, Neil deGrasse Tyson's Star Talk Live, Hip-Hop and Comics, Steven Universe, Angel – The 20th Anniversary, Batwoman Cast Live, and The Orville Cast Interview.
Non-Sport Update attended the panel for Doctor Who alum Christoper Eccleston, who discussed current projects and talked about the real reason he stopped being a Time Lord (he had a falling out with three immediate superiors including Russell T Davies). NSU was also present at Behind the Magic of Harry Potter and the Cursed Child, a behind-the-scenes peek with cast and crew at the imaginative wizardry employed to create this non-musical, two-part, Broadway smash.
NSU was also invited to a photo shoot and interview session with the cast of Snowpiercer, a new post-apocalyptic sci-fi thriller coming in 2020 to TNT. Snowpiercer is based on the highly acclaimed movie and graphic novel series of the same name. The show, which could make a great subject for trading cards, centers on the remnants of humanity in a frozen world who inhabit a 1,001 car, perpetually moving train that circles the globe.
We asked Jennifer Connelly, who stars as Melanie Cavill, Snowpiercer's formidable head of hospitality, how long it takes to shoot each episode. Connelly mentioned that each one, not including post production, takes about ten days to shoot, but is really not "super-linear" because the production needs to take advantage of when a particular train car set is dressed and ready.
As a result, like scenes for multiple episodes are often shot together. Connelly also noted that there are a number of differences between working in movies and joining a TV series like Snowpiercer. Said Connelly, "The pace [on TV] is different, the volume of material—the page count you get through every day you are shooting…the document is evolving as you are working, and you are learning new things about characters and new plot points every day, so that's a different process. New scripts are always coming in and just the length of time spent with your character is so different from films."
Steven Ogg, who plays volatile gang leader PIKE, is no stranger to being in an apocalypse, having portrayed Negan's right hand man, Simon, on The Walking Dead.
Ogg sees similarities in how he played each character, "I think a lot of these characters, you know, PIKE and Simon, it's more an actors's choice to portray them in as many colors as possible, not knowing where they are going to go. I didn't know where Simon was going to introduce Negan, I didn't know where the story was going, so I portrayed him with as many different angles as I could pack into an episode, so that writers and producers could do as many different things with him as possible. PIKE is similar to that to, not knowing where he was going to be or go, other than in the tail [of the train.] The idea is to put as many different colors out there as I can."
Other members of the main cast at the photo shoot and interview were Daveed Diggs, Alison Wright, Mickey Sumner, Lena Hall, Sheila Vand, and executive producer and showrunner Graeme Manson.
Of course, no visit to Comic Con would be complete without visiting The Walking Dead Universe panel, held in Madison Square Garden's Hulu Theater. Most of the primary cast was there, including Danai Gurira (Michonne), who will be leaving the show this season. Showrunner Angela Kang announced that TWD has officially been renewed for an 11th season while Executive Producer Scott M. Gimple advised that information on the Rick Grimes movies will be forthcoming in a month or two. An unexpected appearance by a disguised Lauren Cohan (Maggie Greene) heralded the announcement that she will be returning to the show after an extended absence. NYCC19 is a colossal event to remember.
Next year's show will be held on October 8-11. Even if you are not a full-fledged Avenger, you will still be advised to Assemble.