2017 Cryptozoic Supergirl Cat Quotes Preview Set Available at Philly Non-Sports Show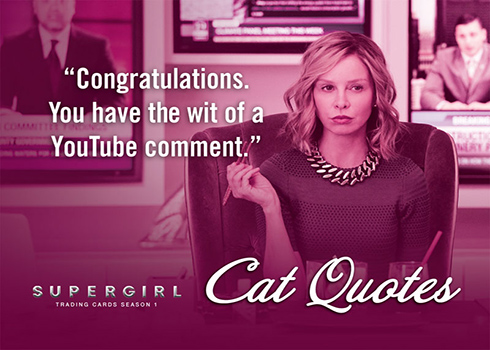 Those heading to the Philly Non-Sports Show in Allentown, PA on October 21 and 22 will have a chance at some of the first cards from Cryptozoic's upcoming Supergirl set. The 2017 Cryptozoic Supergirl Season 1 Cat Quotes Preview set comes with ten cards plus the possibility of autographs and more.
Each Cat Quotes set has ten cards. Each has a memorable line of snark from Cat Grant, who is played by Calista Flockhart in the show.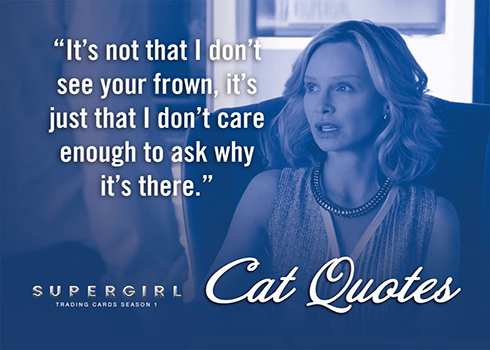 A total of 300 sets are available at the show at a cost of $29.95.
Autographs
Every tenth 2017 Cryptozoic Supergirl Season 1 Cat Quotes Preview Set comes with an autograph. That's 30 autographs in total.
Six different autograph cards are included from four signers. Among them? Dean Cain, best known for playing Superman in Lois & Clark: The Adventures of Superman.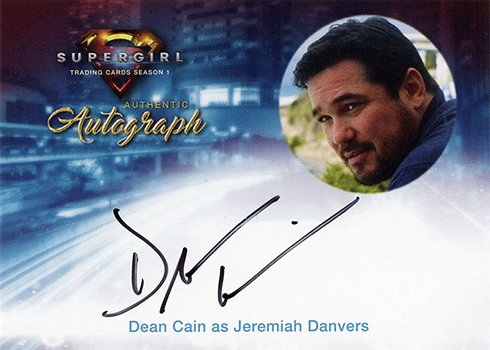 Here's the full list of available autographs:
Chris Browning as Ben Krull
Chris Browning as Reactron
Dean Cain as Jeremiah Danvers
Iddo Goldberg as T.O. Morrow
Iddo Goldberg as Red Tornado
Malina Weissman as Young Kara Zor-El
Five copies of each autograph are available in the preview sets. They are not exclusives, though and will also be included in the full Supergirl Season 1 release.
Supergirl Season 1 Cat Quotes Preview Set Costume Redemption
The 2017 Cryptozoic Supergirl Season 1 Cat Quotes Preview Set doesn't have any wardrobe cards. But there is a redemption good for a sweater worn by series lead Melissa Benoist.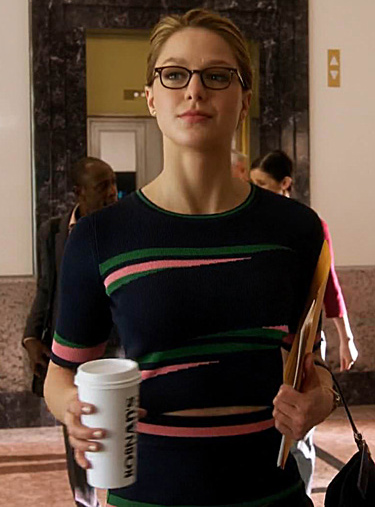 It comes from episode 116, "Falling."
The collector who pulls the redemption gets the complete sweater, not just a swatch or piece of it.
The 67th Philly Non-Sports Show takes place on Saturday, October 21 and Sunday, October 22 at the Merchants Square Mall in Allentown. Doors open at 10 AM and remain open until 5 PM on Saturday and 3 PM on Sunday.
Comments? Questions? Contact Ryan Cracknell on Twitter @tradercracks or by email.