Super7 Supersports ReAction Figures Go Retro with Jackie Robinson, Mickey Mantle, Mascots and More
Super7 Supersports ReAction Figures go retro in more way than one. The new line launches with a legend-laden list of Hall of Famers, some current stars plus a trio of mascots. The throwback theme isn't just in the names, though. So are the figures themselves.
Like the dozens of other ReAction Figures done thus far primarily for movies and TV shows, they're based off of old-school Kenner toys. Think the original Star Wars figures. That means minimal articulation. That means that likenesses are more Starting Lineup than McFarlane.
And that's the point.
Super7 unveiled the figures at the 2019 New York Toy Fair.
Super7 Supersports ReAction Figures Lineup
Planned figures focus primarily on Hall of Famers. Mickey Mantle, Jackie Robinson, Willie Mays, Ted Williams, Joe DiMaggio, Roy Campanella, Yogi Berra, Carlton Fisk, Juan Marichal, Orlando Cepeda and Carl Yastrzemski were among the players on display. Some had a couple of different versions. For example, Mays has one with Giants and one in a Mets uniform. Berra has a figure in his uniform and one with his catching gear on.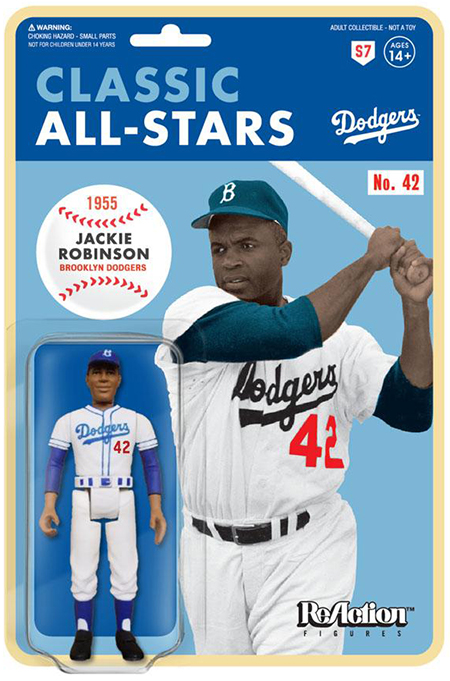 A couple of current players were also among the previews from the San Francisco-based Super7. And both are Giants: Buster Posey and Madison Bumgarner.
It's not just players that are getting figures. Mascots include Mr. Met, the Phillie Phanatic and San Francisco's short-lived Crazy Crab.
A gallery of what was on display at New York Toy Fair can be seen at Figures.com.
According to Super7, the Supersports ReAction Figures are scheduled to arrive around the All-Star Game.
Beyond ReAction Figures
Super7 has more than just action figures in the works for baseball.
Bullpen Buggies are like Hot Wheels cars only for bullpen carts not Mustangs and Corvettes.
Mascot and baseball buckets, retro-styled player pennants, glass mugs and pins were also previewed at Toy Fair.